The group of stones known as the Whispering Knights forms one constituent part of a collection of three prehistoric monuments often just referred to as the Rollright Stones, the other two being the famous
King's Men
stone circle and the
King Stone
standing stone. However it predates the other two monuments by a wide margin being constructed during the early
Neolithic
, probably sometime between 4000-3500BC.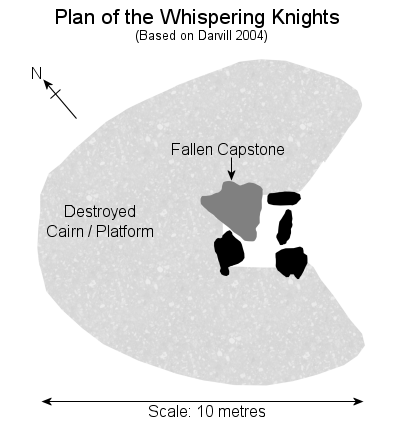 Located in a farmer's field on the Oxford side of the Oxfordshire/Warwickshire border and about 350 metres to the east of the stone circle the Whispering Knights are in fact the remains of a portal dolman
burial chamber
consisting of four remaining limestone uprights standing between 1.5-2.4 metres tall and forming the sides of a box shaped structure measuring 1.8 metres square. A fifth slab that has collapsed partly into the chamber is believed to have been the
capstone
that the uprights would have supported.
The antiquarian William Stukeley visited Rollright (which he referred to as
Rowlright
or
Rowldrich
) in the mid 18th century and described the chamber as having five uprights and a fallen capstone at that time. However he could be mistaken and writing from memory as his illustration (shown below) is ambiguous, the stone in the left foreground could be partly concealing the capstone on the left and an upright on the right or more likely, they may in fact both be the same leaning capstone.
The stones of the chamber would have been surrounded on three sides by a low oval stone rubble cairn or platform, traces of which were found during excavations in 1983. The fourth side towards the southeast was left open allowing access to the tomb and forming a forecourt, perhaps for the periodic performance of rituals and ceremonies at significant times of the year involving the deposition or removal of human remains. The only find from within the chamber itself is an undated piece of human cheek bone recovered in the early 20th century.
The Whispering Knights were part of the King's retinue in the in the folk tale recounted on the
King's Men
page.