Shearman's Wath
Late Neolithic / Early Bronze Age Henge
North of Horncastle, Lincolnshire OS Map Ref TF25347168
OS Maps - Landranger 122 (Skegness & Horncastle), Explorer 273 (Lincolnshire Wolds South)
---

Site of Shearman's Wath Henge (also known as West Ashby Henge)
Although there remains nothing to see on the ground this is nevertheless an important site in the understanding and unfolding story of prehistoric Lincolnshire. It was first discovered by the aerial photography of crop marks in the 1970's that revealed a slightly oval area measuring about 25 metres in diameter surrounded by a 2 metre wide segmented ditch with entrances to the northwest and southeast, making this a Class II
henge
. No trace of the external bank that we might expect to find associated with this type of monument has been found but we could reasonably assume that this would have extended the size of the monument by another 2-3 metres on either side. Just beyond this proposed bank was discovered a ring of 24 pits or post holes, whether these were originally left as pits, perhaps for ceremonial offerings, or used to support wooden posts is not known at present but an extract from English Heritage's scheduling report of the site tantalisingly suggests that they may have held standing stones. Personally I think this is highly unlikely as there appears to be almost no tradition of the use of stone within Lincolnshire (or at least no surviving evidence) - it is not used at other sites, so why here, and where would this stone have come from?
Looking at aerial photographs of the site shows what looks like the dried remains of a stream or river just to the east of the current course of the River Bain - was this the original course of the river? If so then the henge was closer to the Bain than it is now and this might strengthen the argument that this site was somehow linked to other sites that could be associated with the Bain such as
Grim's Mound
and
Ludford Barrow
further north.
Glossary Items:
Neolithic
,
Bronze Age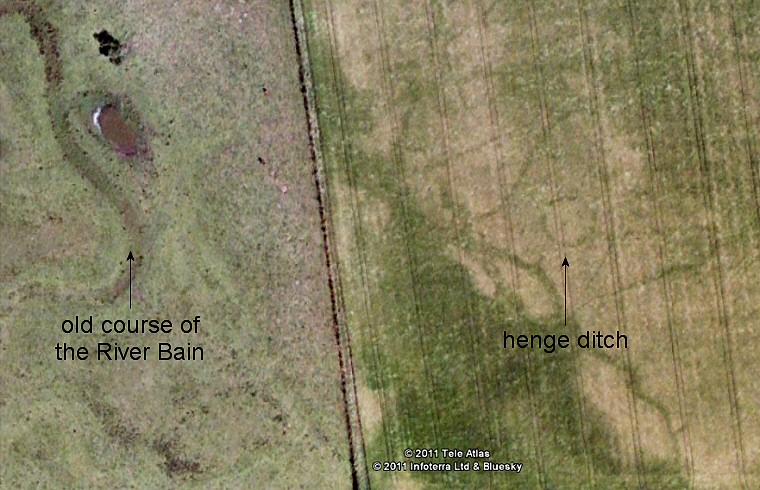 Google Earth image from 2005 showing the crop mark of the henge ditch.
Back to Map | Home | Full Glossary | Links | Email: chriscollyer@stone-circles.org.uk