Weetwood Moor 1 & 2
Bronze Age Carved Rocks / Rock Art
East of Wooler, Northumberland OS Map Ref NU02332822
OS Maps - Landranger 75 (Berwick-upon-Tweed), Explorer 340 (Holy Island & Bamburgh)

---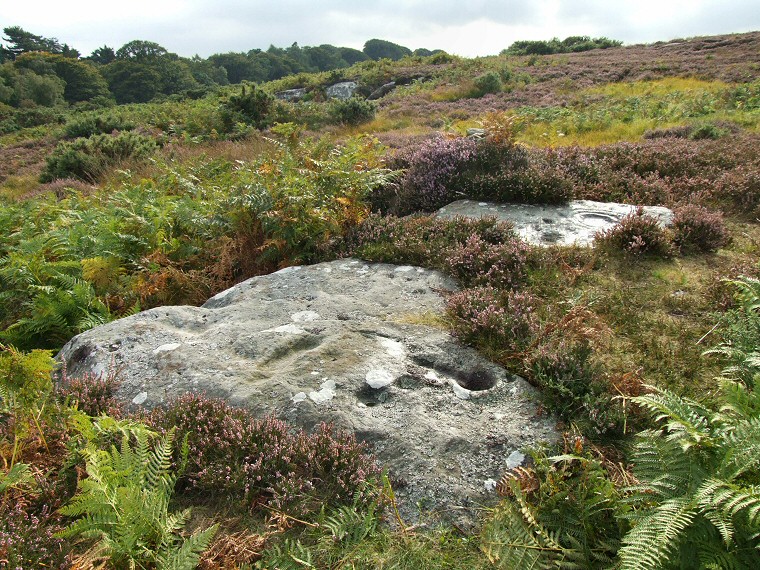 Overview of Weetwood Moor 1b in the foreground and 1a just behind it at NU02332822 looking south towards a small quarry and the trees of North Plantation beyond.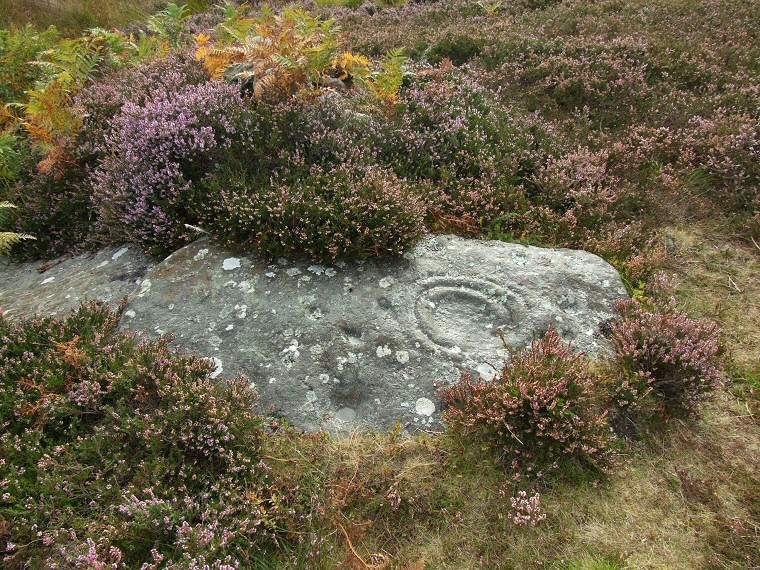 Weetwood Moor 1a (ERA 136). A central shallow bowl is surrounded by a pair of unfinished or worn rings (the gap is nearest to the camera) with about five cups on either side.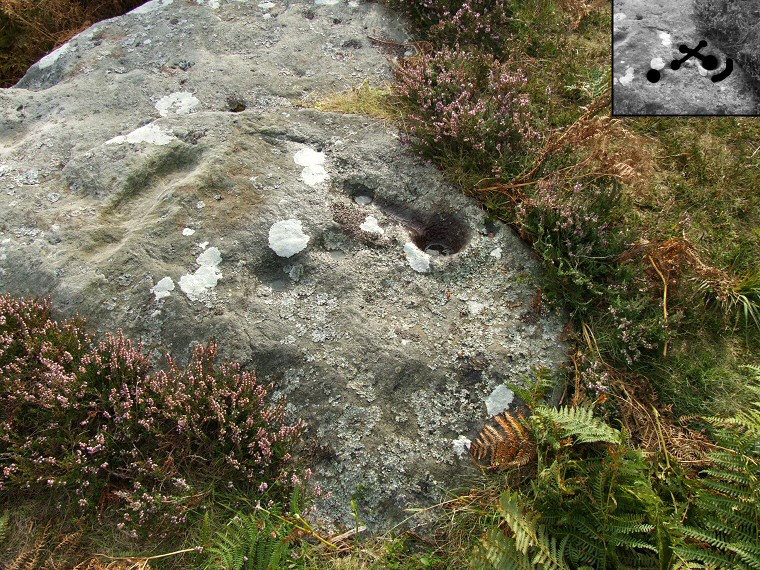 Weetwood Moor 1b (ERA 134). A wide deep cup with a possible partial ring is linked to much smaller cup by a short groove or channel which in turn is crossed by a shallow groove linking two further cups. Several other depressions on the rock surface including the groove towards the left may also be man-made.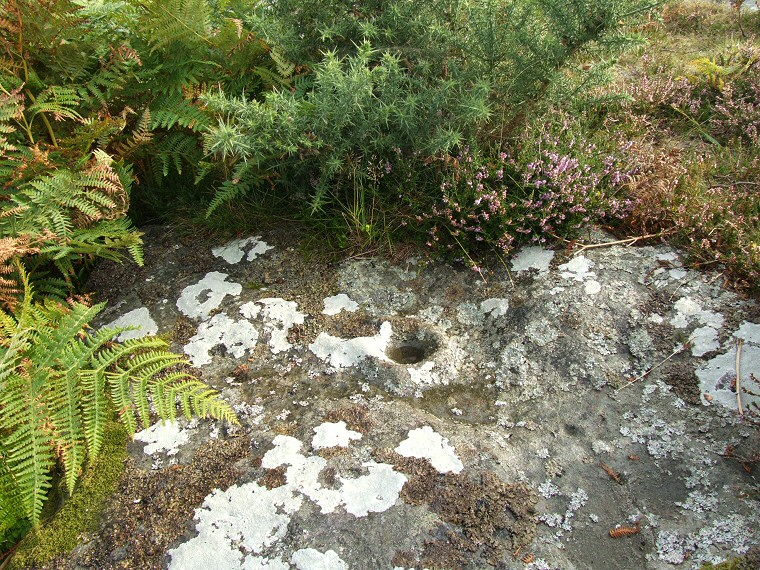 Weetwood Moor 1d (ERA 133) at NU02332822. The cup in the centre of the picture is surrounded by a raised boss formed by a deep ring with possible traces of another unfinished ring. Just out of shot at the bottom right of the picture are a further pair of eroded cup and ring motifs.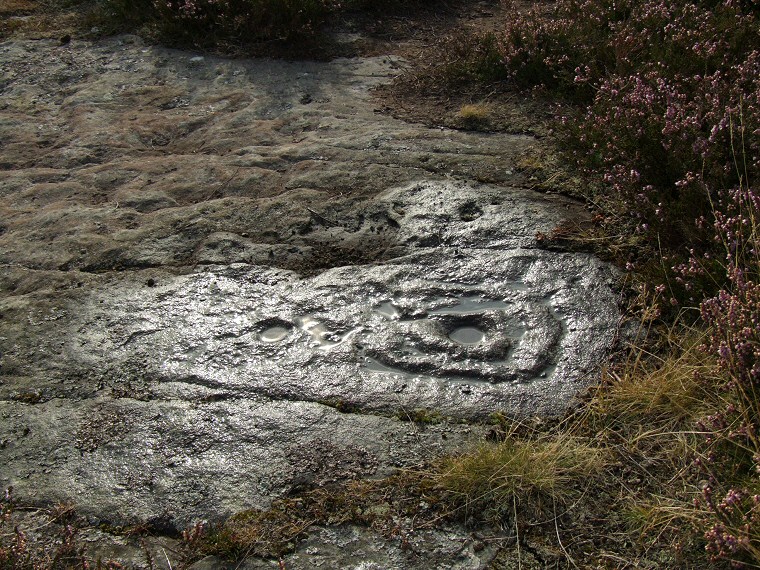 Weetwood Moor 2e (ERA 150) at NU02282820. A cup has a pair of unfinished angular rings with a short groove linking it to a further cup to the left which may be surrounded by a worn ring. The small depression above the main motif may be natural.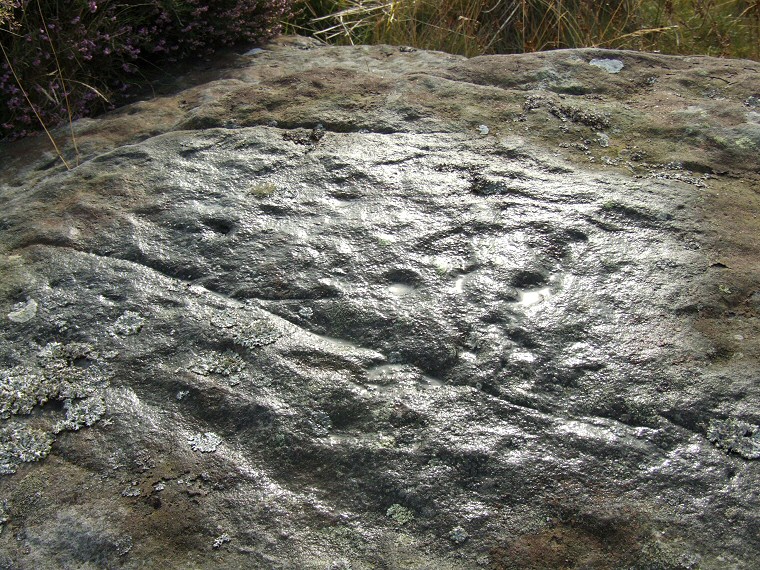 I'm not sure which stone this is as there are several in the Weetwood Moor 2 group. There seems to be at least two cups near the centre with another possible cup to the left while other depressions are open to guesswork.
Back to Map
|
Home
|
Full Glossary
|
Links
|
Email: chriscollyer@stone-circles.org.uk