Weetwood Moor 5, 7 & Cairn
Bronze Age Carved Rocks / Rock Art
East of Wooler, Northumberland General OS Map Ref NU02152824
OS Maps - Landranger 75 (Berwick-upon-Tweed), Explorer 340 (Holy Island & Bamburgh)

---
Weetwood cairn and carved kerbstone (ERA 766) at NU02262811. This rebuilt cairn has a badly worn kerbstone that has a central cup with three grooves radiating from it as well as four concentric rings. The carvings are so eroded that in the direct sunlight I could hardly make them out at all.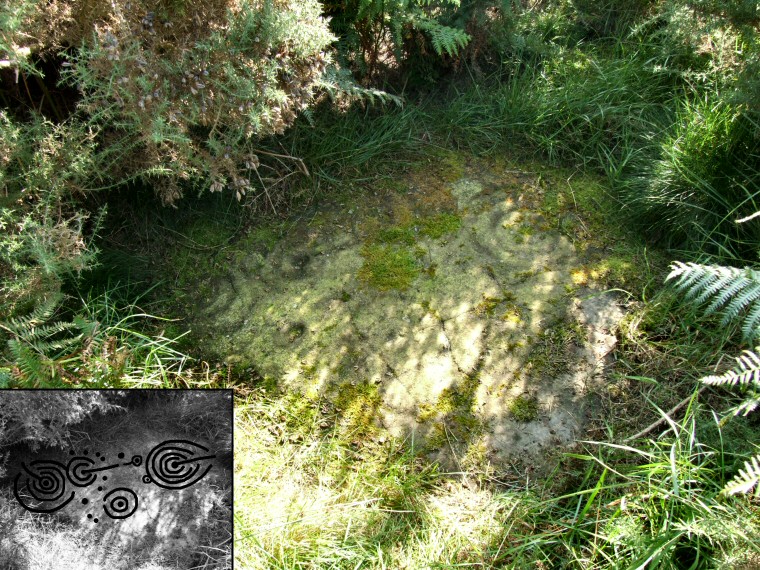 Weetwood Moor 5a (ERA 127) at NU02152824. A complex carving on a flat rock partly overgrown by a gorse bush. The shadows cast by the vegetation make this another design that is difficult to work out but the inset illustration should allow the main motifs to be picked out in the photograph. There are four main cup and ring designs, those to the left and right have a cup with four rings each and both also have a gutter running out towards the edge of the rock. Towards the centre a pair of cups have two rings each with one motif having a short gutter that heads towards a small single cup and ring. Elsewhere there are about a dozen cups, one with a small ring that may be partly overlaid by the larger motif on the right.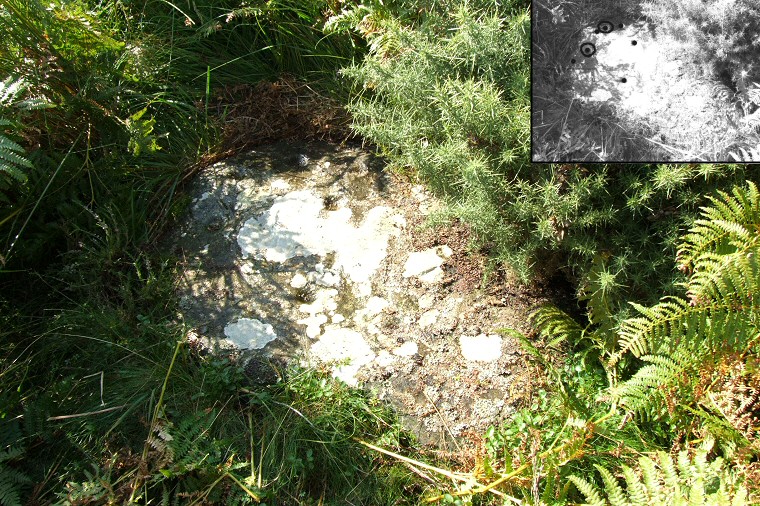 Weetwood Moor 7 (ERA 155) at NU02272815. This is another overgrown flat rock where the markings were difficult to make out, there are between seven and ten cups with a pair towards the top of the picture having worn rings.
See also Weetwood Moor 1 & 2, Weetwood Moor 3, Weetwood Moor 6
Back to Map
|
Home
|
Full Glossary
|
Links
|
Email: chriscollyer@stone-circles.org.uk