Buttony 3
Bronze Age Carved Rock / Rock Art
Southeast of Doddington Moor, Northumberland OS Map Ref NU01733104
OS Maps - Landranger 75 (Berwick-upon-Tweed), Explorer 340 (Holy Island & Bamburgh)

---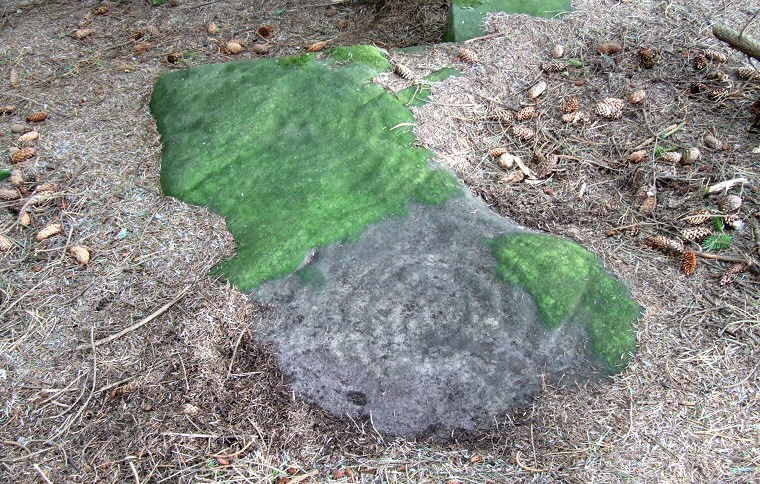 Buttony 3 is badly warn and consists of two separate motifs.
This large flat rock seems to have eroded quite badly and the worn
carvings
are quite difficult to make out, it consists of two separate and quite different motifs.
The upper part of the picture covered in the layer of moss is a rather complicated design with six small cups that form a centre piece surrounded by three full rings and a further four partial rings but only on one side (the side nearest to the camera). The other side is taken up with nearly twenty worn cup marks which might suggest that the cups were already here when the rings were carved or that the rings were left unfinished and the cups added later to fill in the empty space.
The other half of the slab has a possible central cup surrounded by five rings with a groove that runs through its centre (more clearly visible on the lower photograph). This groove can be seen to partly follow the top edge of the rock and form a rectangular feature that itself encloses a pair of cups. The groove continues onto part of the lower portion of the rock nearest to the camera partly covered by pine needles and soil where there are also another ten or so cups.
See also
Buttony 1c
,
Buttony 4
,
Buttony 5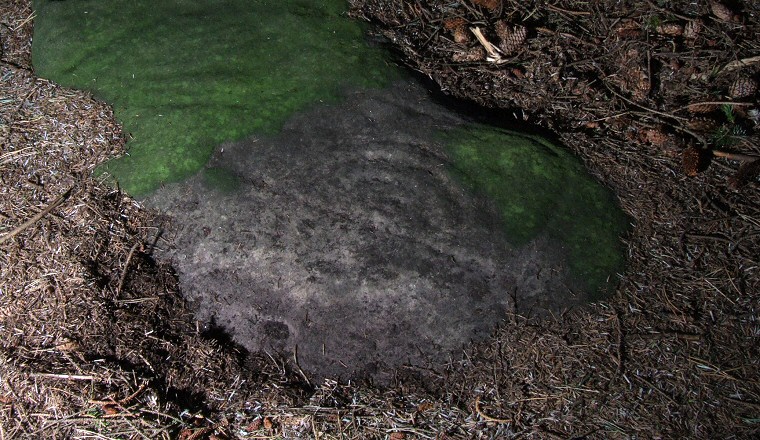 The lower part of Buttony 3 illuminated by side flash. This shot highlights the almost rectangular feature that cuts through the middle of the cup and ring motif.
Back to Map
|
Home
|
Full Glossary
|
Links
|
Email: chriscollyer@stone-circles.org.uk