Buttony 5
Bronze Age Carved Rock / Rock Art
Southeast of Doddington Moor, Northumberland OS Map Ref NU01743104
OS Maps - Landranger 75 (Berwick-upon-Tweed), Explorer 340 (Holy Island & Bamburgh)

---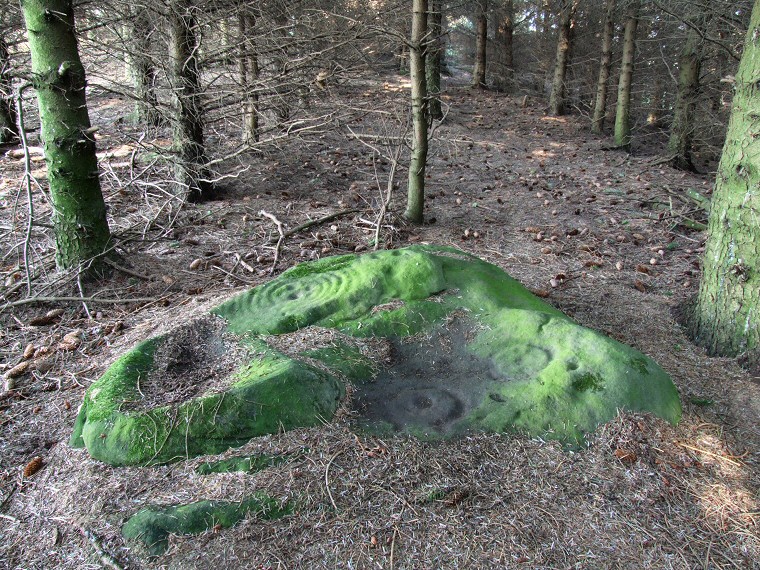 Buttony 5 has carving on three different levels, two of these levels are visible above, the other is on the right-hand face of the rock not visible in this picture (see bottom picture).
This irregularly shaped rock is located just a couple of paces from Buttony 4 and has rather worn
carvings
on three different levels. The first of these can be seen on the upper edge of the rock in the picture above, it consists of a rosette of five cups surrounded by a set of rings. There seems to be six rings to the left and five to the right with all but the inner two rings being truncated by the edges of the rock. A set of three deep cups stand just to the right of the main motif.
On the slightly lower dished face nearest the camera are another pair of carvings, to the left is a 'keyhole' design with its open end facing towards the camera (more clearly seen in the photograph below) which contains a deep cup and four smaller shallow cups. To the right a rosette comprising a central cup surrounded by eight other cups is set within a circular carving.
The third design is on the sloping front face of the rock to the left in the picture below, here a cup is surrounded by three rings with traces of an unfinished fourth ring while a groove is cut from the cup down towards the lower edge of the rock.
See also
Buttony 1c
,
Buttony 3
,
Buttony 4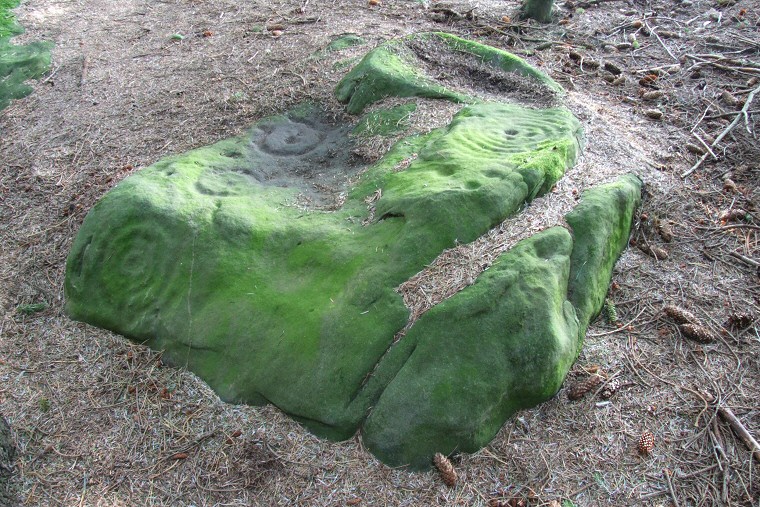 Buttony 5. Front face of the rock showing the cup and ring motif to the left, the 'keyhole' motif can also be seen more clearly from this angle about half way along the upper left edge of the rock. Part of Buttony 4 is visible at the top left of the picture.
Back to Map
|
Home
|
Full Glossary
|
Links
|
Email: chriscollyer@stone-circles.org.uk