Buttony 1c
Bronze Age Carved Rock / Rock Art
Southeast of Doddington Moor, Northumberland OS Map Ref NU01723104
OS Maps - Landranger 75 (Berwick-upon-Tweed), Explorer 340 (Holy Island & Bamburgh)

---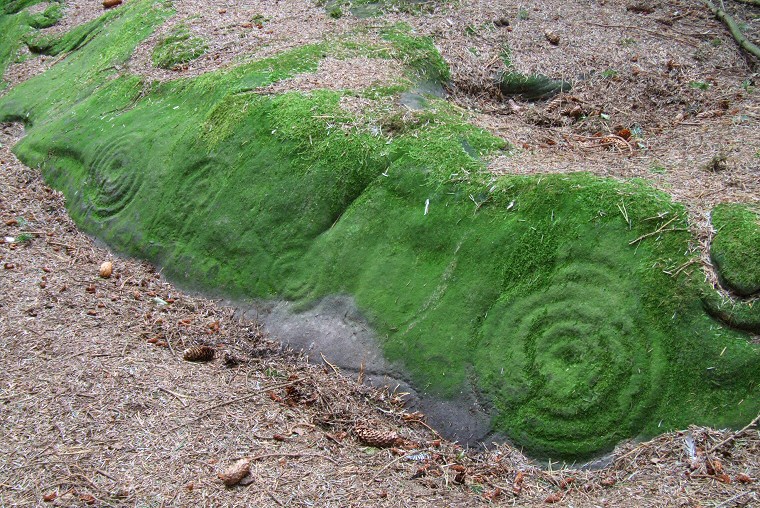 Buttony 1c, four carvings linked by a long meandering groove. Part of the groove can be seen just to the left of the nearest carving - the individual pick marks forming the groove are still fresh.
The
carved rocks
that make up the Buttony group now lie in a small plantation which makes finding them tricky as GPS can struggle under tree cover. Once you manage to find the first one it is a case of following the southwest-northeast line of rock as it outcrops to locate the others. Despite this I could not find carvings 1a, 1b or 2 in the short time I had at the site.
The carving above and below is Buttony 1c and the fine set of motifs are cut into the southeast sloping face of a large flattish outcrop of rock. It consists of four linked designs, to the left a wide cup is surrounded by four rings with a groove running up from ground level, passing through the cup and exiting at the top before it veers to the right and downwards to the level of the pine needles before meandering to the right to link in with the other three carvings. The second of these carvings is a cup with a pair of rings linked to the main horizontal groove with a short gutter. The third design is partly worn but there are at least three partial or full rings around a cup, again a groove runs through the carving and seems to link in with a natural fault in the rock just above. The final design to the right of the picture is the largest and here the groove enters it at an angle and passes through a cup and five rings before exiting towards the upper right of the design.
Although tree cover now restricts any views from the Buttony carvings the rocks of the outcrop stand on the edge of a small plateau immediately before the land slopes away to the southeast into the valley of the River Till. Interestingly there would have been a direct line of slight between Buttony and Chattonpark Hill 3.5 miles east-southeast which is the location of the equally impressive carvings of
Chatton
and
Ketley Crag
.
See also
Buttony 3
,
Buttony 4
,
Buttony 5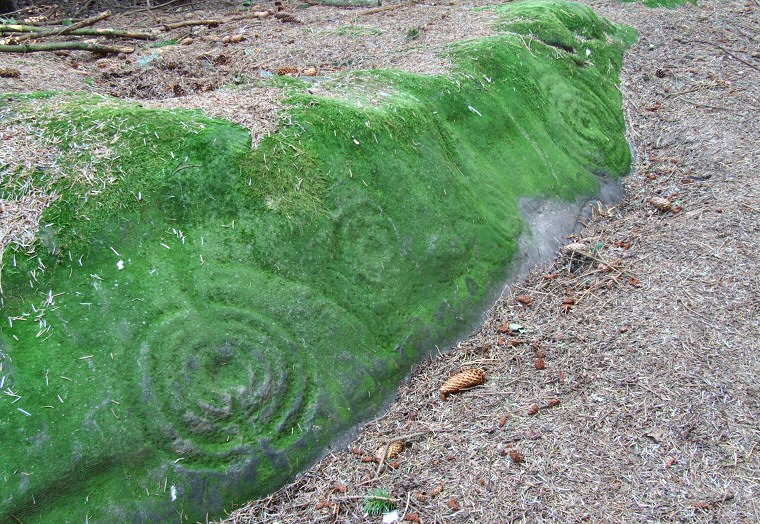 Buttony 1c, view from the opposite direction. Here the groove can be clearly seen starting from ground level, traveling upwards through the nearest carving before exiting the top and curving downwards and to the right.
Back to Map
|
Home
|
Full Glossary
|
Links
|
Email: chriscollyer@stone-circles.org.uk