Buttony 4
Bronze Age Carved Rock / Rock Art
Southeast of Doddington Moor, Northumberland OS Map Ref NU01743104
OS Maps - Landranger 75 (Berwick-upon-Tweed), Explorer 340 (Holy Island & Bamburgh)

---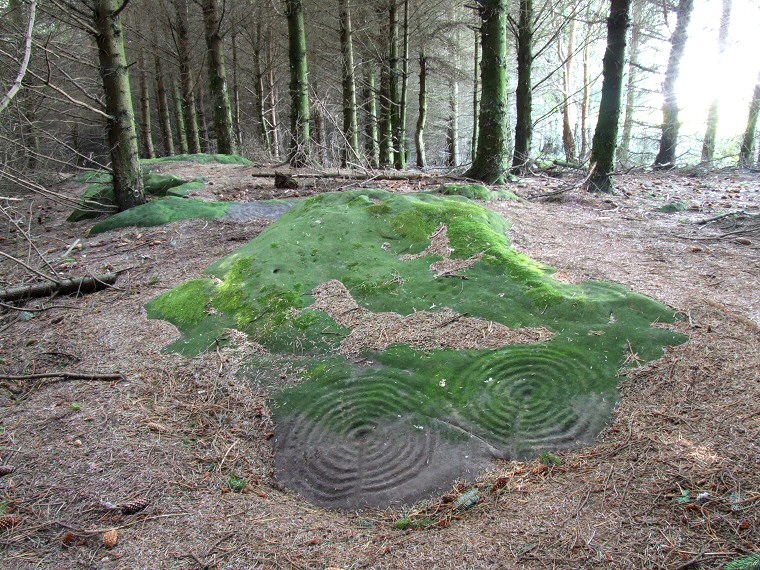 Buttony 4, view of the entire outcrop. Buttony 3 can be seen as the next outcrop above left.
This is a spectacularly beautiful pair of
carvings
on the lower face of a large sloping rock outcrop. A pair of single cups are each surrounded by close-set rings, to the left in the photographs there are seven complete rings with about three quarters of an incomplete eighth ring while to the right there are seven rings. The two carving almost - but not quite - meet in the middle.
Emerging from both cups are a pair of straight radial grooves that pass through the rings, in the picture below the carving to the left can be seen to have one groove running down towards ground level while the other is angled upwards and to the right (at about 'ten past six' if imagined on a clock face). The right-hand carving has a prominent groove running again towards ground level but slightly more to the left while another fainter marking which may be a natural fault runs to ground level towards the right (about 'twenty past seven' using our clock face analogy). Why grooves or gutters were added to many cup and ring carvings remains a mystery although the suggestion that liquid was meant to flow along them would only seem to hold true for those grooves that run downwards - many do not.
Elsewhere on the rock surface are several scattered cups as well as a set of six forming a domino motif, part of which can be seen along the top edge of the lower photograph, plus a rough oval carving that encloses three cups (visible to the upper right of both pictures below).
See also
Buttony 1c
,
Buttony 3
,
Buttony 5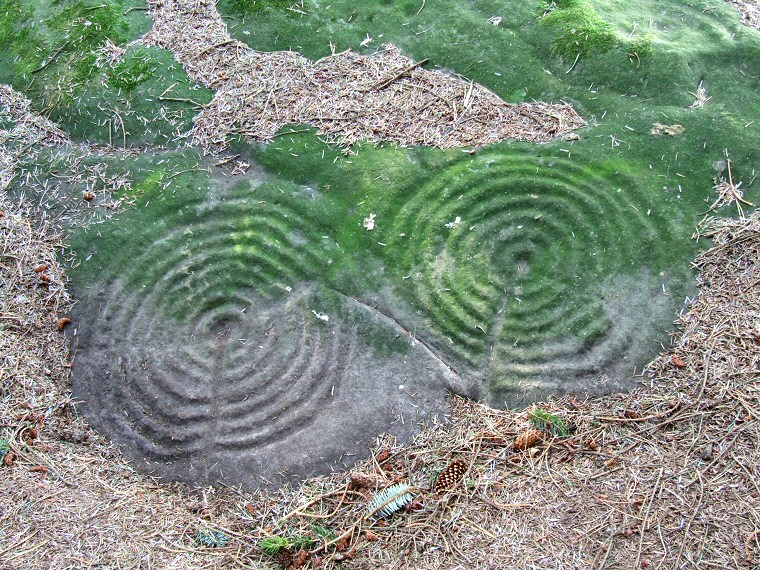 Buttony 4, close up of the carvings.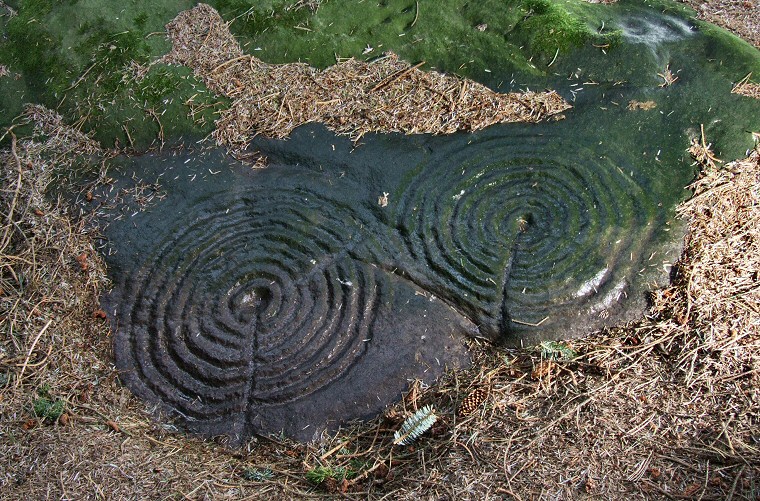 Buttony 4 marked with water and photographed with side flash. Four of the six cups forming a 'domino' can be seen right at the centre top while the oval groove containing three cups is to the top right.
Back to Map
|
Home
|
Full Glossary
|
Links
|
Email: chriscollyer@stone-circles.org.uk