Dod Law Excavation Site (Stone A)
Bronze Age Carved Rock / Rock Art
Doddington Moor, Northumberland OS Map Ref NU00403177
OS Maps - Landranger 75 (Berwick-upon-Tweed), Explorer 340 (Holy Island & Bamburgh)

---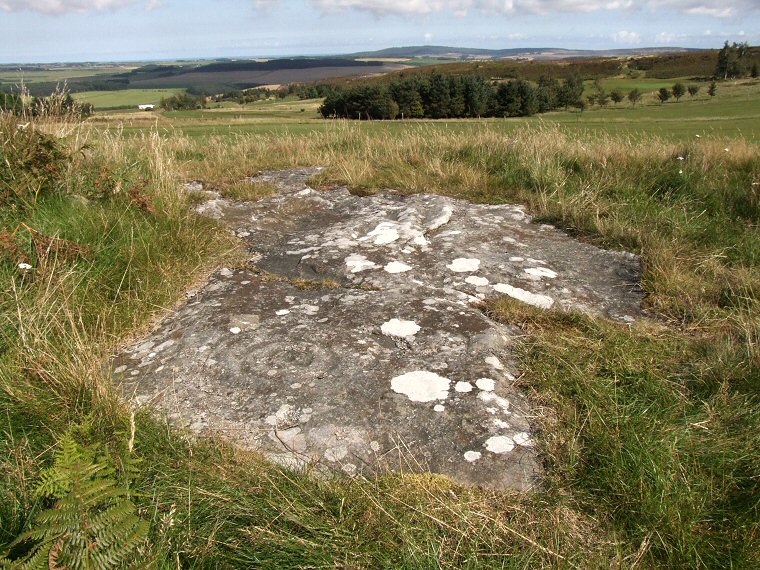 Dod Law Excavation Site - Stone A (ERA 48) in its landscape context looking northwest across the greens of Wooler Golf Club towards the valley of the River Till. There are several marked rocks in this group which is situated in an area of rough ground to the south of the golf course and just to the north of Dod Law hillfort, the flat outcrop show on this page is the most heavily marked stone of the group and probably the easiest to find.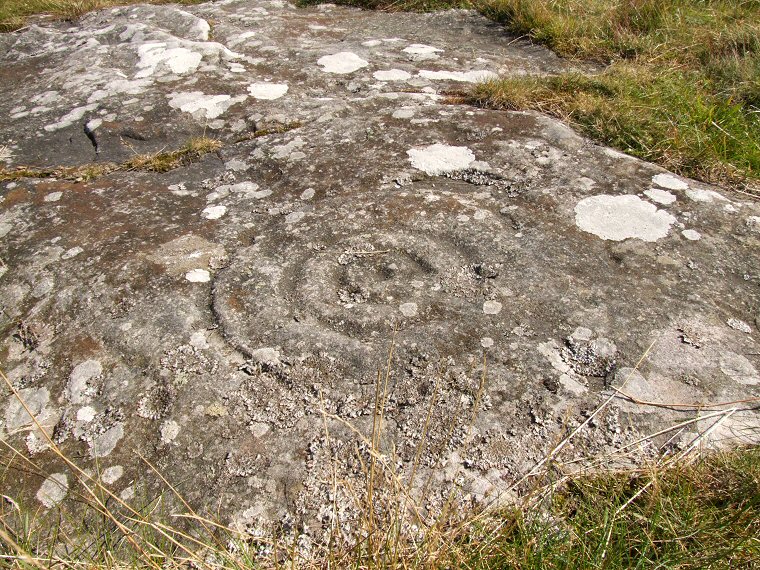 Detail of the carvings. The large cup and ring motif on this rock is easy to pick out with a clear cup and three well defined rings although they are either worn or unfinished towards the right hand side. What is not so clear are three further cups each with a pair of rings along the edge of the stone nearest to the camera. One of the motifs can be seen towards the lower left hand side of the picture but the other two are either partly covered by grass or a layer of crusty lichen which effectively hides their form. There is an unresolved debate in the rock-art world as to whether moss and lichens growing on carvings protect then from the elements or contribute to their decay by slowly breaking down and damaging the rock surface by a process of delamination.
The famous carvings of Dod Law Main Panel are located 100 metres away to the southeast.
See also the following carved rocks nearby: Dod Law Excavation Site Stone F, Dod Law Quarry Site, Dod Law Main Panel
Back to Map
|
Home
|
Full Glossary
|
Links
|
Email: chriscollyer@stone-circles.org.uk