Dod Law Main Panel
Bronze Age Carved Rock / Rock Art
Doddington Moor, Northumberland OS Map Ref NU00503172
OS Maps - Landranger 75 (Berwick-upon-Tweed), Explorer 340 (Holy Island & Bamburgh)

---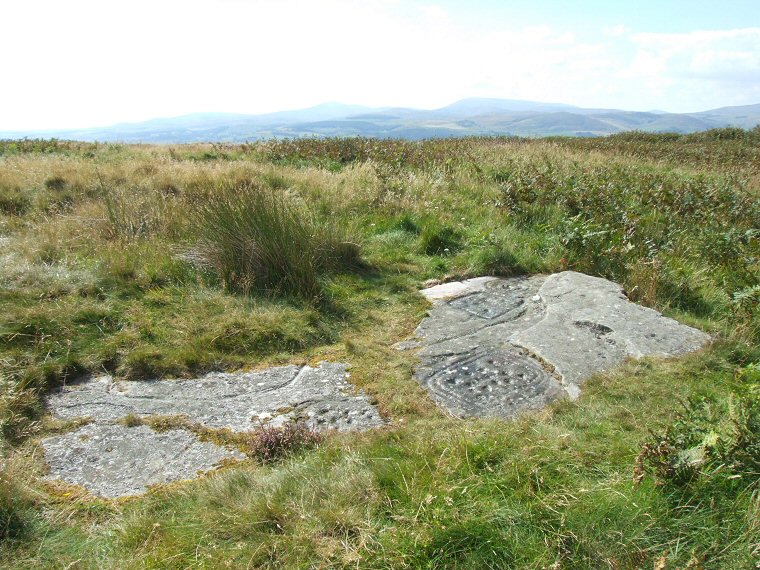 Dod Law Main Panel (ERA 53) in context - looking southwest towards the Cheviots. The carvings on this flat outcrop are divided into three main zones, one to the left of the line of grass that now runs down the centre of the rock and two to the right - one near the lower edge and one near the top edge.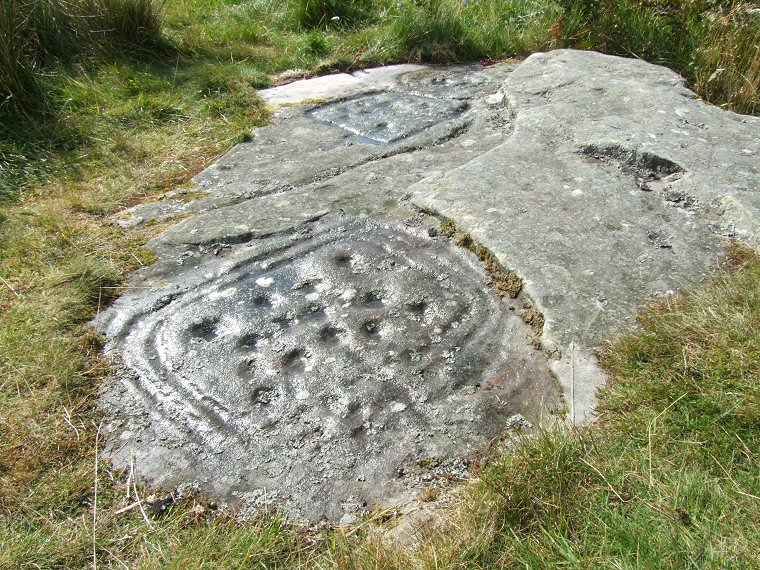 The right hand section of rock showing detail of the carvings (those along the top edge are dealt with further down the page). This is an unusual motif, fourteen cups are arranged nearly symmetrically with a groove or gutter leading from one of the central cups out towards the edge of the rock whilst the whole set is enclosed in three concentric rectangular grooves. These grooves have not been cut with square corners but are instead gently rounded. There are half a dozen seemingly random cups outside the motif while the slightly raised section of rock to the right also has about fourteen worn cups on its surface some of which form a small cluster.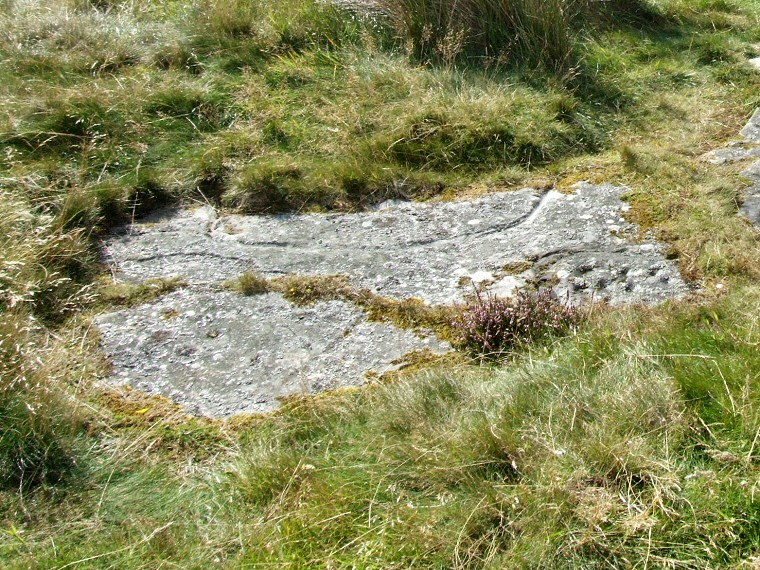 The left hand section of the rock. This seems to be becoming increasingly covered by the encroaching turf but a collection of about ten cups can be seen at the lower right corner of the rock along with the top and left hand edges of the groove that encloses them. A faint groove is just about visible on the lower left section in front of the thin line of moss across the surface while near the top edge a long groove emerges from the grass, crosses almost horizontally and disappears under the vegetation again. Within this groove are several cups some of which may be enclosed within a square groove.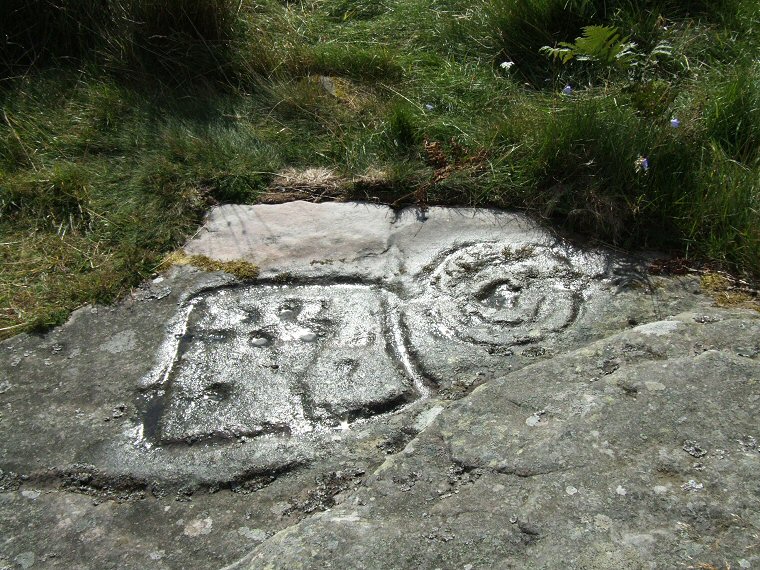 Upper right section of the rock. A groove creates a square enclosure that contains nine cups while a 'Y' shaped groove links two cups and cuts through the bottom of the square before turning left and heading off the side of the picture. To the right a wide cup is surrounded by a pair of rings and is bisected by a groove running horizontally to the right hand edge of the rock.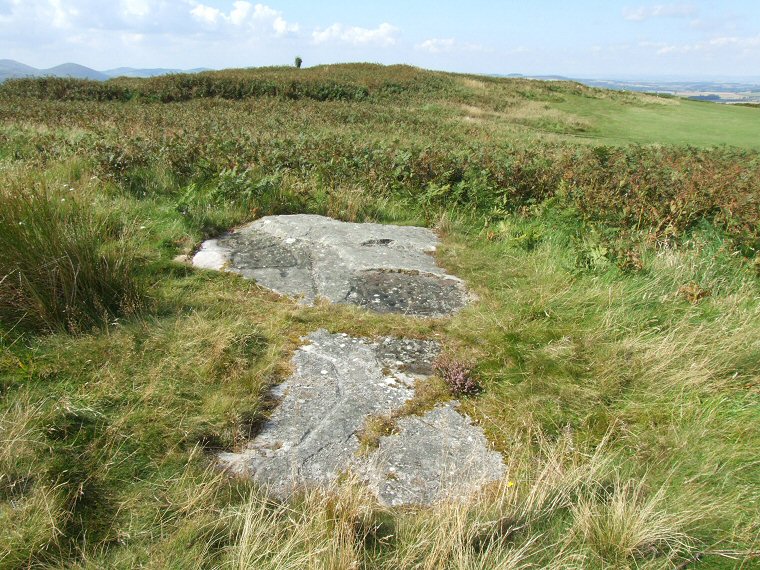 Dod Law Main Panel in context - the view looking west towards Dod Law hillfort and the carved rocks of the Dod Law Excavation Site group.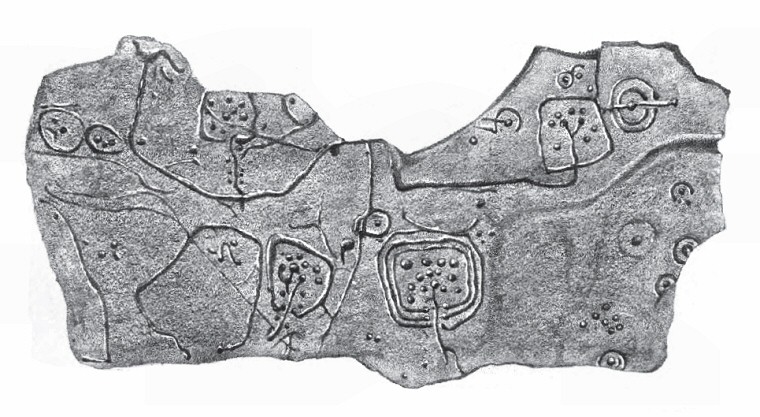 Illustration of the full panel taken from 'The Ancient Sculptured Rocks of Northumberland and the Eastern Borders' by George Tate 1865. Note that much of the upper left area in the drawing is now under turf.
See also the following carved rocks nearby: Dod Law Excavation Site Stone A, Dod Law Excavation Site Stone F, Dod Law Quarry Site
Back to Map
|
Home
|
Full Glossary
|
Links
|
Email: chriscollyer@stone-circles.org.uk