Dod Law Quarry Site
Bronze Age Carved Rock / Rock Art
Centre of Doddington Moor, Northumberland OS Map Ref NU00783199
OS Maps - Landranger 75 (Berwick-upon-Tweed), Explorer 340 (Holy Island & Bamburgh)

---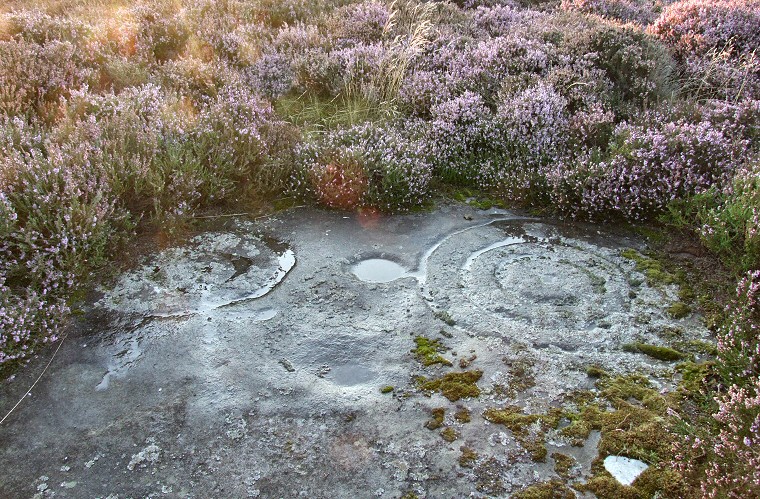 Dod Law Quarry Site carved rock (ERA 46). This medium size flat slab is partly overgrown with moss and heather that obscures some of the carvings but enough is visible to work out the form of the motifs. To the left a cup has a pair of penannular rings with a very shallow groove or gutter emerging from the cup and traveling towards the camera, part of which is just about visible as a lighter vertical line below the rings. To the right is a very nicely executed cup and three penannular ring design - this also has a shallow gutter from the cup that extends to the right hand edge of the rock but can now barely be seen due to the covering of moss. Just outside the outer ring a wide shallow cup in the centre of the picture has been physically linked to the larger motif by cutting away a narrow section of rock that separates them. This shallow bowl naturally collects water which then flows into the outer ring - was this significant?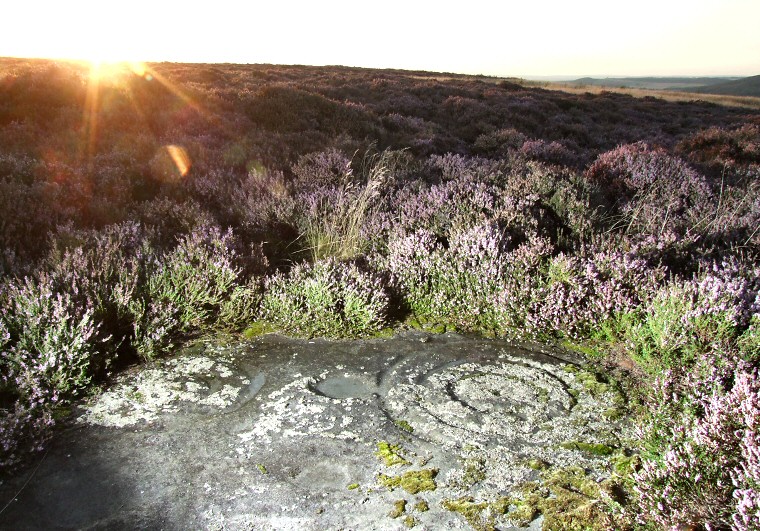 Photograph taken from almost the same angle but lit by side flash.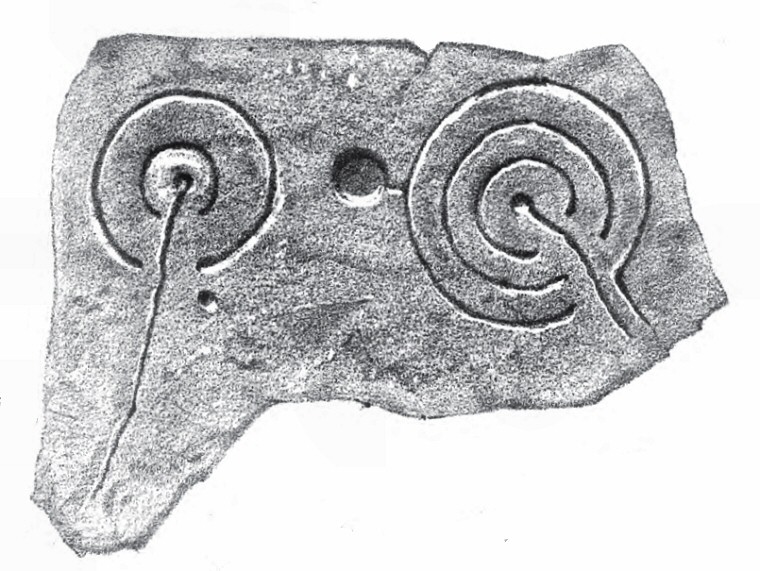 Illustration of the carving taken from 'The Ancient Sculptured Rocks of Northumberland and the Eastern Borders' by George Tate 1865.
See also the following carved rocks nearby: Dod Law Excavation Site Stone A, Dod Law Excavation Site Stone F, Dod Law Main Panel
Back to Map
|
Home
|
Full Glossary
|
Links
|
Email: chriscollyer@stone-circles.org.uk