Glebe Farm Cursus (Cursus 'C')
Neolithic Cursus
North of Rudston, East Riding of Yorkshire OS Map Ref TA09576810
OS Maps - Landranger 101 (Scarborough), Explorer 301 (Scarborough, Bridlington & Flamborough Head)
Length: 1.2KM / 0.75 Miles, Orientation: almost East-West, Elevation: 40m (West) 27m (lowest point) 45m (East)

---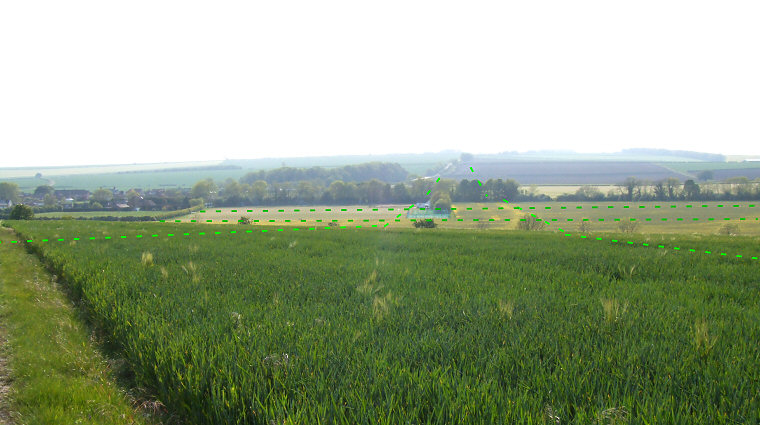 View looking west over the junction of two cursuses north of Rudston in early evening sunlight.
In the photograph above taken from Bridlington Gate Plantation I've plotted the course of two of the cursuses that cross in the fields north of Rudston village - Cursus 'C' (Glebe Farm Cursus) is marked with the light green dashed line while Cursus 'D' (Argham Cursus) is marked with the darker green line. Cursus C starts close to the B1253 on the hillside in the distance then travels eastwards down the gentle slope of the hill as it leads into Rudston before crossing the Great Wold Valley and the Gypsey Race stream. There is a faint bright yellow line in the crops just to the left of the line that marks the right hand bank of cursus, this could well be a cropmark of the ditch from which the material for the bank was dug. From here the cursus climbs up the much steeper hillside close to the camera where it is thought to end either beneath the trees of Bridlington Gate Plantation just behind the camera or to carry on a very short distance to where it would have met the northern section of Cursus A (Beacon Cursus). It is possible that it actually ends beneath Cursus A in which case this would point to the Glebe Farm Cursus predating the Beacon Cursus.
Like many cursuses these two only survive as cropmarks seen from the air and sometimes visible from the ground at certain times of the year depending on what, if anything, is growing in the fields they pass through, in this case I've calculated their positions from the detailed maps contained in 'Ancient Landscapes of the Yorkshire Wolds' by Catherine Stoertz and published by the Royal Commission on the Historical Monuments of England.
The diagram on the Beacon Cursus page shows the relationship between the four Neolithic cursus monuments clustered around Rudston village.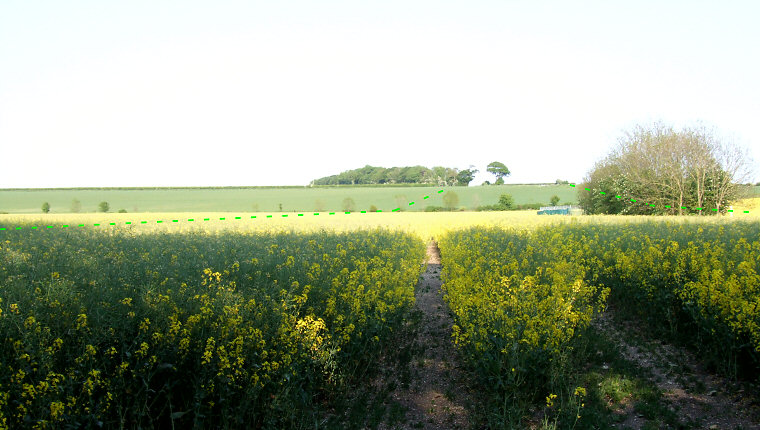 Photograph looking eastwards and uphill towards Bridlington Gate Plantation taken from close to the northern bank of Cursus C, marked with a dashed line. The southern bank, also marked, passes through part of the recreation area out of shot to the right.

This elevation profile of Cursus C prepared with data from Memory Map software clearly shows the three distinct divisions of the course of the earthwork, gently sloping down from the west before a flat run across the Great Wold Valley and the Gypsey Race stream before a short steep climb to end upon the hillside of Bridlington Gate Plantation. At less than a mile long Cursus C is the shortest of the four cursuses clustered around Rudston.

Map of the Rudston Landscape
Back to Map | Home | Full Glossary | Links | Email: chriscollyer@stone-circles.org.uk