Maen Achwyfaen
Stone Wheel Cross
Southeast of Prestatyn, Clwyd, Wales OS Map Ref SJ129788
OS Maps - Landranger 116 (Denbigh & Colwyn Bay), Explorer 265 (Clwydian Range)
---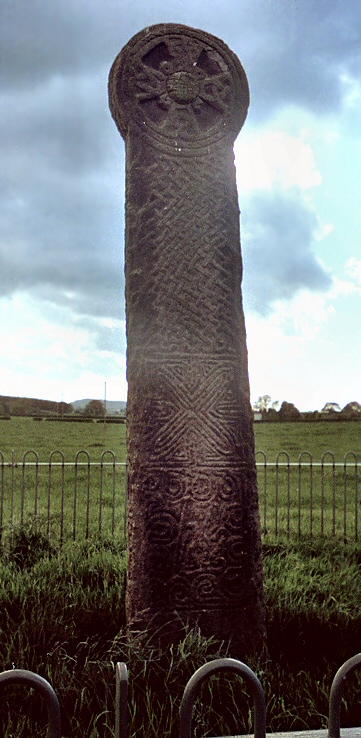 Maen Achwyfan - Photographed 2001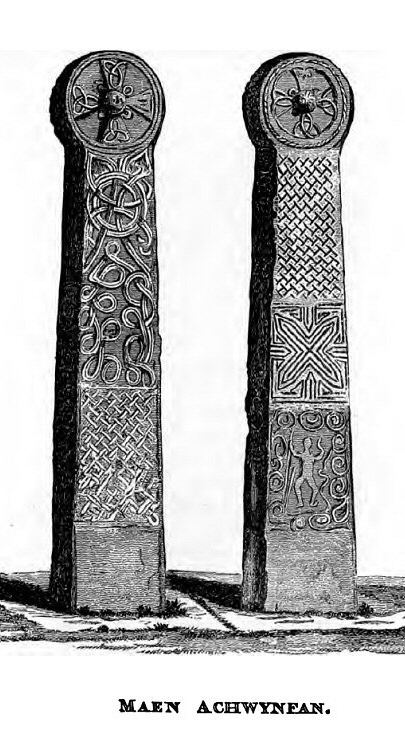 Drawing of Maen Achwyfan from Pennant 1883
This massive stone cross stands at a five-way cross road west of Whitford, east of Offa's Dyke and close to a row of at least four barrows. Although it is clearly a Christian wheel cross, narrow and flat, carved on both sides and along its edges with intricate Celtic style knotwork patterns, its location in a field and nowhere near a church suggest a more distant past.

It is in fact believed to have been a Bronze Age standing stone that perhaps marked a junction of several trackways (as it still does today) that has been 'Christianised'. This was a common practice, an attempt by the early church to take away some of the power that these sites held for the pagan population. This can also be seen at Gwytherin where a church was built to diffuse the power of an alignment of small stones. Further afield, a church was built within Knowlton Henge in Dorset and in East Yorkshire the church at Rudston was built right next to the tallest monolith in Britain.

Update: Lloyd Laing dates the carvings to the 10th-11th century and notes that they show evidence of Viking as well as Celtic styles while Sharkey gives its height as 3.4 metres and provides an alternate spelling of 'Achwyfan' and name as 'The Stone of Lamentations'.




References:
Cope, J. 1998.
The Modern Antiquarian. A Pre-Millennial Odyssey through Megalithic Britain.
London: Thorsons.
Laing, Lloyd & Jennifer. 1979.
A guide to the Dark Age Remains in Britain
. London: Constable.
Pennant, T. 1883.
Tours in Wales
. Caernarvon: Humphreys.
Sharkey, J. 1998.
Celtic High Crosses of Wales
. Llanrwst: Gwasg Carreg Gwalch


Back to Map | Home | Full Glossary | Links | Email: chriscollyer@stone-circles.org.uk