Nine Stone Close
Bronze Age Stone Circle
West of Stanton Moor, Derbyshire OS Map Ref SK225626
OS Maps - Landranger 119 (Buxton & Matlock), Explorer OL24 (The Peak District - White Peak Area)
---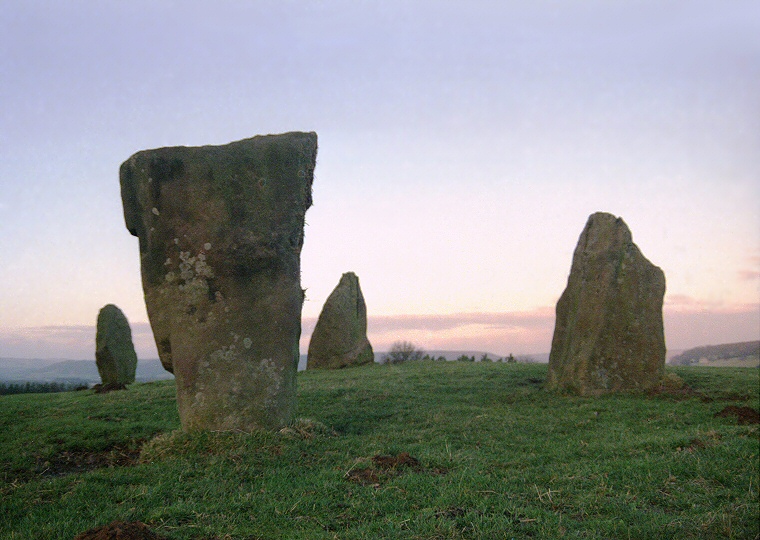 No longer nine stones, but four stones remain of this stone circle that also carries the evocative name of 'the grey ladies'. The largest standing stones of any prehistoric site in Derbyshire, they stand isolated in a farmers field on Harthill Moor, almost due west across the Ivy Bar Brook from the small stone circle of Doll Tor and the ritual complex of Stanton Moor that lies a short distance beyond but their bulk alone would seem to set the stones of Nine Stone Close apart as being part of a different tradition.

Hayman Rooke recorded and illustrated six stones at the circle sometime before 1780 (see image at the bottom of page) while the antiquarian Thomas Bateman also noted six in 1847 whose condition he described as being 'originally placed in an upright position, which they still in a great measure retain' (he had however perhaps mistakenly previously suggested there were seven stones). Bateman conducted an excavation of a slightly raised area within the stones from which he recorded finds of pottery sherds and flints.

There were further excavations in 1877 which failed to make any finds but which may have disturbed or displaced some of the stones and what remains today is an arc of four stones, the shortest still measuring a respectable 1.2 metres and the tallest, which fell in 1936 and was then re-erected a couple of years later, reaching just over 2 metres in height. This is the stone shown in the foreground left of both photographs. Bateman had recorded the tallest stone as being a little taller at 8 feet (2.4 metres), presumably this was the same stone he was referring to. Together with the missing stones they would have formed a circle of a about 13 metres diameter.

It seems that at least one more of the stones has survived as one of similar proportions to those of the circle now stands as part of a drystone wall about 70 metres to the south (second photograph below). Again Bateman can furnish us with more information as he noted the presence of two standing stones 'of similar dimensions' which stood about 80 yards (70 metres) to the south - it is assumed the stones were taken from the circle for use as gateposts. These two, together with the six still standing in 1847 plus a further stone now missing would give us the full tally of nine stones implied in the site's name.

About 370 metres south of the circle across the open fields is the strange rock outcrop of Robin Hood's Stride (on the left of the second photograph below). It is suggested that it may have served as a sacred hill alter and may indeed be the reason for the construction of the stone circle at this particular site as from the centre of the circle the midsummer full moon at its maximum elevation is seen to pass behind and between two natural stone pillars on top of the hill.

There are several legends and myths attached to this circle, one claims that the stones dance at midday, another says they dance at midnight. A story recorded in the 19th century tells of a farm labourer who found a clay pipe at the stones, and when he smoked it, was able to see through the surface of the earth near one of the stones to a land inhabited by fairy folk.

Date: Bronze Age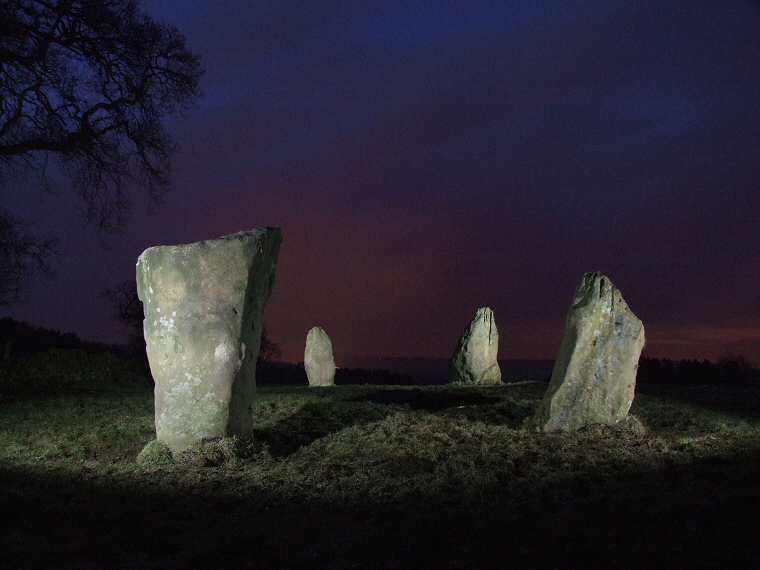 Night-time view of Nine Stone Close lit by flash.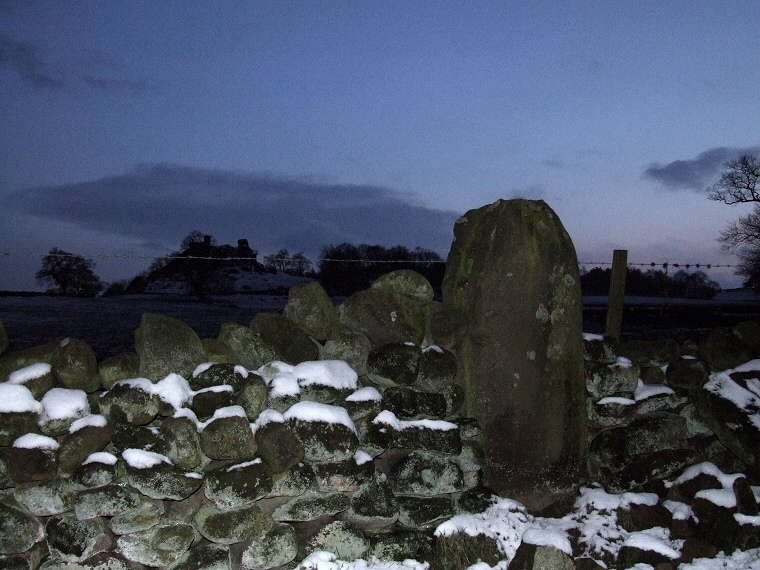 Stone in a fieldwall to the south of Nine Stone Close which may have come from the circle.
To the left the rock outcrop of Robin Hood's Stride is silhouetted against the winter sky.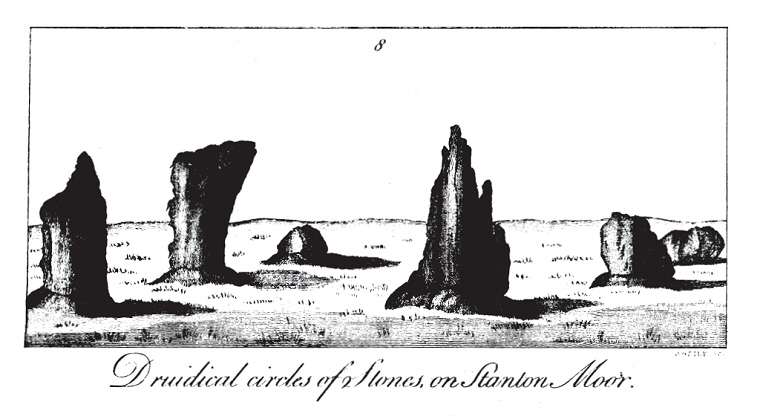 Rooke's drawing of Nine Stone Close from the 18th century. The four largest stones would seem to be a good match for the remaining stones at the site so presumably it was the two smaller stones that have since been lost.


Site Visits / Photographs:
1999, Februrary 2010.
References:
Barnatt, J. 1978.
Stone Circles of the Peak
. London: Turnstone Books.
Bateman, T. 1847.
Vestiges of the Antiquities of Derbyshire
. London: John Russell Smith.
Burl, A. 1995.
A Guide to the Stone Circles of Britain, Ireland and Brittany
. London: Yale University Press.
Cope, J. 1998.
The Modern Antiquarian. A Pre-Millennial Odyssey through Megalithic Britain.
London: Thorsons.
Heathcote, J. P. 1939. The Nine Stones, Harthill Moor.
Derbyshire Archaeological Journal
, 60, 126-128.
Pastscape: 311354, NMR Number: SK 26 SW 3.
Rooke, H. 1782. An account of some Druidical Remains on Stanton and Hartle Moor.
Archaeologia
, 6, 110-115.


Back to Map | Home | Full Glossary | Links | Email: chriscollyer@stone-circles.org.uk