Sewborrans
Bronze Age Standing Stone
West of Penrith, Cumbria OS Map Ref NY488300
OS Maps - Landranger 90 (Penrith & Keswick), Explorer OL5 (The English Lakes: NE Area)
---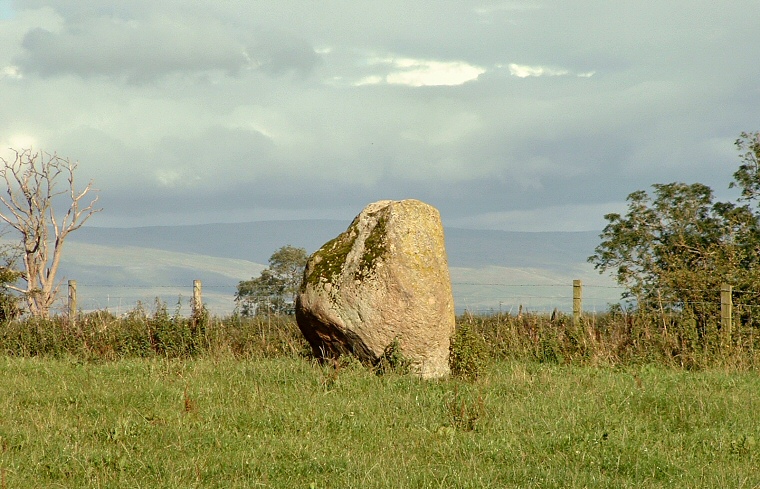 The 1.5 metre high granite standing stone of Sewborrans (or Sewborwens) now stands lonely in a cattle field just north of the B5288 from Penrith to Greystoke - it may however once have formed part of an alignment or avenue of stones as two 19th century sources claim. A William Furness writing in 1894 speculates that there was a northwest - southeast avenue that ran "from Newton (Reigny) to the ford of the Eamont at Yanwath." I don't know exactly where this ford across the river was but it is possible that it was close to the two remaining
henges
of
Mayburgh
and
King Arthur's Round Table
at Eamont Bridge. If this is the case then the avenue could also have included the large stone that stands in a small industrial park at
Skirsgill
. Another writer (Taylor) stated earlier in 1886 that there was indeed an avenue of stones but that it formed a northeast - southwest alignment running from Sewborrans towards Newbiggin.
Sadly the loss of other stones that may have formed either alignment means that we cannot be sure if there were one, two or indeed more stone avenues here or how they were related to the two
long cairns
that stand a short distance to the northwest of Sewborrans.
Glossary Item:
Bronze Age

Back to Map | Home | Full Glossary | Links | Email: chriscollyer@stone-circles.org.uk