Stanton Moor Central
Also known as Stanton Moor III and T56
Bronze Age Ring Cairn
Northeast of Birchover, Derbyshire OS Map Ref SK248633
OS Maps - Landranger 119 (Buxton & Matlock), Explorer OL24 (The Peak District - White Peak Area)
---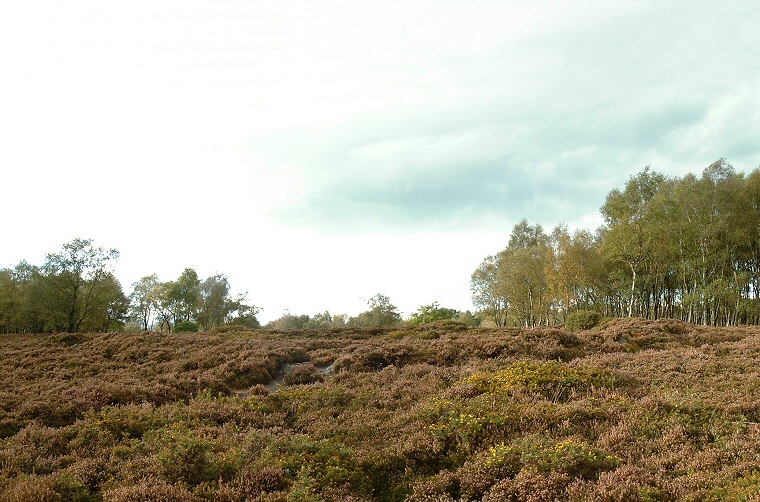 Looking west to Stanton Moor central circle. A path leads up from the bottom left of the picture to a dark ring in the heather with the raised bank just within it. The central lower area and the cairn are obscured from this angle.
This site is sometimes thought to be a ruined embanked stone circle although English Heritage list is as a ring cairn instead - it's difficult to tell which.

Like many of the other sites on the moor it is engulfed in thick heather but from the centre its form is clear and walking around it reveals a bank of earth and cobbles about 20 metres in diameter that still stands nearly a metre high in places which seems to be better preserved to the west, which is also the most overgrown side. There are entrances to the north and south and in a couple of places on the eastern side the small boulders of the bank have been knocked down making them look a little like extra entrances - at the south entrance there is an inscribed stone that bears the Heathcote's T56 identification for the site.

Near the centre are the remains of a low cairn although there are no records of any finds from it. As to whether this site was originally a stone circle or a ring cairn it is difficult to say, if it was a circle then it has suffered differently from the nearby Nine Ladies that managed to keep its uprights and (just about) loose its earth and cobble bank. Here the situation is reversed and it resembles a larger version of Barbrook II minus the uprights, indeed there are no records of any standing stones here.

The site which dates from the Bronze Age is easy enough to find as you walk north along the main path that leads to the Nine Ladies. About 230 metres south of the Nine Ladies look to you left (west) for a raised oval outline of heather about 20 metres away.

See also:
Stanton Moor Introduction, Nine Ladies Stone Circle
North Stone Circle, South Stone Circle, Doll Tor Stone Circle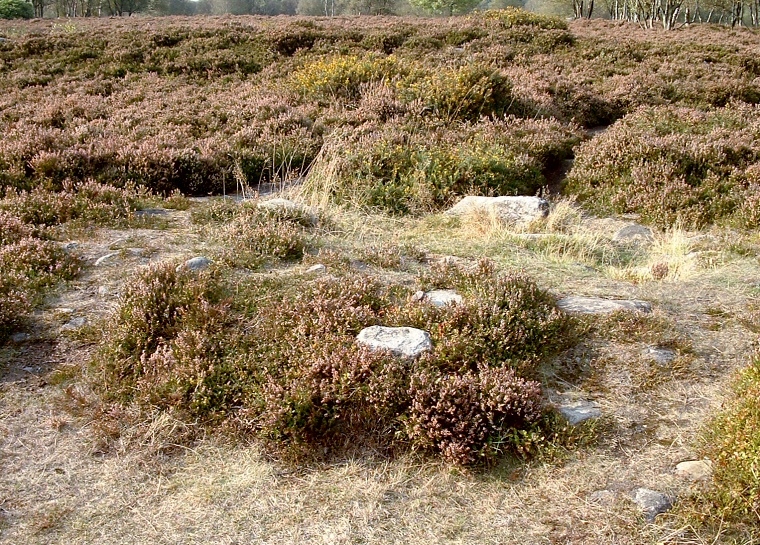 The cairn near the centre.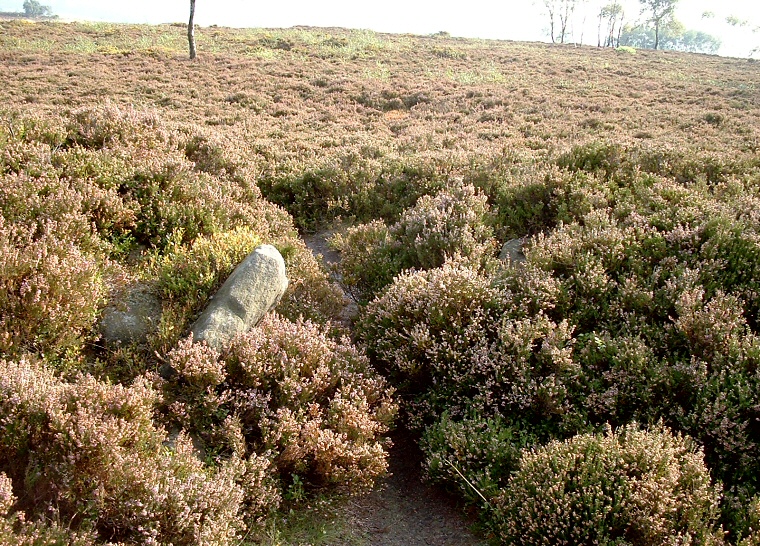 Southern entrance (looking outwards).
Back to Map | Home | Full Glossary | Links | Email: chriscollyer@stone-circles.org.uk