Stanton Moor North
Also known as Stanton Moor I or T61
Bronze Age Stone Circle
Northeast of Birchover, Derbyshire OS Map Ref SK249637
OS Maps - Landranger 119 (Buxton & Matlock), Explorer OL24 (The Peak District - White Peak Area)
---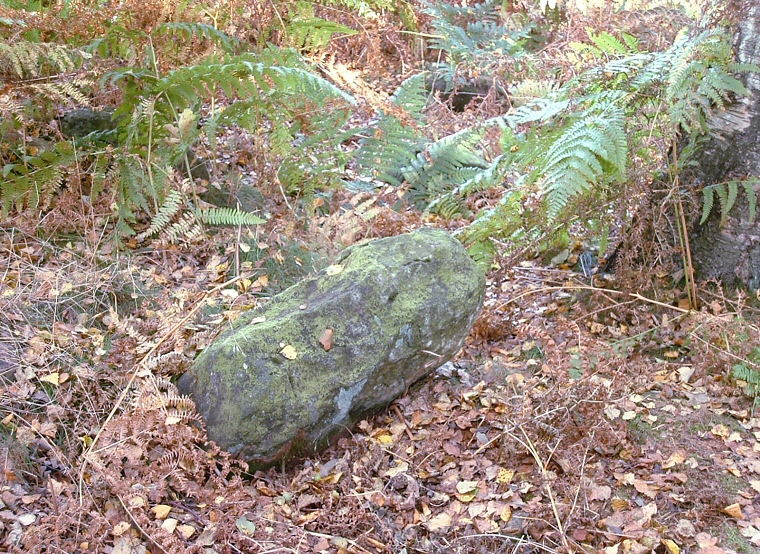 This site is a real mess. The stones here are so strewn around that it is almost unrecognisable as a
stone circle
at all and the heavy undergrowth and the covering of birch trees add to the difficulty of even finding the site.
The antiquarian Major Hayman Rooke recorded two entrances to the north-northeast and south-southwest in the 18th century but they are hard to find now although there are still traces of an earth and rubble bank along with much disturbance in the centre where a
cairn
was also excavated by Rooke. A rough estimate of the diameter of the bank would be 8-10 metres. Within this area are several scattered smallish boulders, one of which could have well have been a standing stone (photograph above).
The position of the site is interesting despite the destruction and flora intrusions, at this point on the moor the land starts to drop away to the northeast and the site would have once have enjoyed fine views towards Stanton Woodhouse and the River Derwent just beyond.
Date:
Bronze Age
See also:
Stanton Moor Introduction
,
Nine Ladies Stone Circle
Central Ring Cairn
,
South Stone Circle,
Doll Tor Stone Circle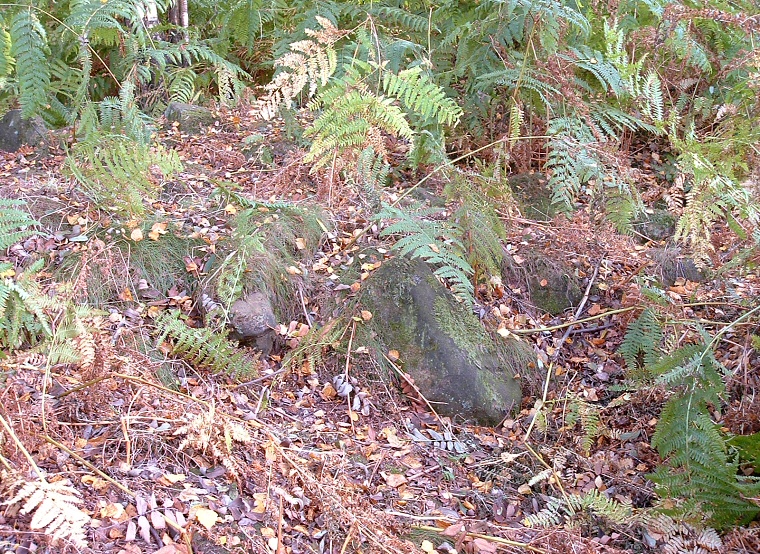 Stones and earth from the bank.
Back to Map | Home | Full Glossary | Links | Email: chriscollyer@stone-circles.org.uk