Breckon Howe
Bronze Age Round Barrow
East of Grosmont, North Yorkshire OS Map Ref NZ85360341
OS Maps - Landranger 94 (Whitby & Esk Dale), Explorer OL27 (North York Moors - Eastern Area)
---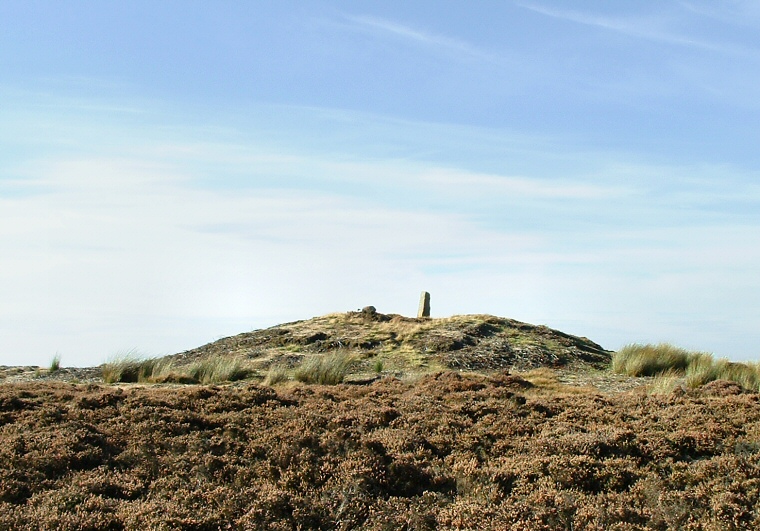 View of Breckon Howe looking north
This distinctive
barrow
is easy enough to get to, park just to the west of the cattle grid on the open road that leads from the A169 to Goathland and follow the line of the fence north before cutting across to the barrow.
The barrow itself stands on the highest point of this part of the moor with a spot height of 297 metres and the land slopes away gently on all sides. It is about 2-3 metres tall but the top has been badly damaged, probably during antiquarian excavations in the 19th century or looting at an earlier time, it also now has a boundary stone on top of it. There are several medium sized boulders scattered around close by that could have formed part of the barrow, a couple of rocks just to the east looked like they may have been part of a kerb.
The barrow lies just to the southwest of Pen Howe and north of Sil Howe and forms part of a chain consisting of
Flat Howes
,
Pen Howes
, Breckon Howe,
Sil Howe
,
Flass Brow
,
Robbed Howe
,
Foster Howes
,
Ann Howe
,
Louven Howe
,
Lilla Howe
,
High Woof Howe
and
Low Woof Howe
. It is thought that these barrows could have formed part of a territorial boundary line between different areas of the moor.
Date:
Bronze Age
Back to Map | Home | Full Glossary | Links | Email: chriscollyer@stone-circles.org.uk