High Woof Howe
Bronze Age Round Barrow
Southeast of Grosmont, North Yorkshire OS Map Ref SE89289682
OS Maps - Landranger 94 (Whitby & Esk Dale), Explorer OL27 (North York Moors - Eastern Area)
---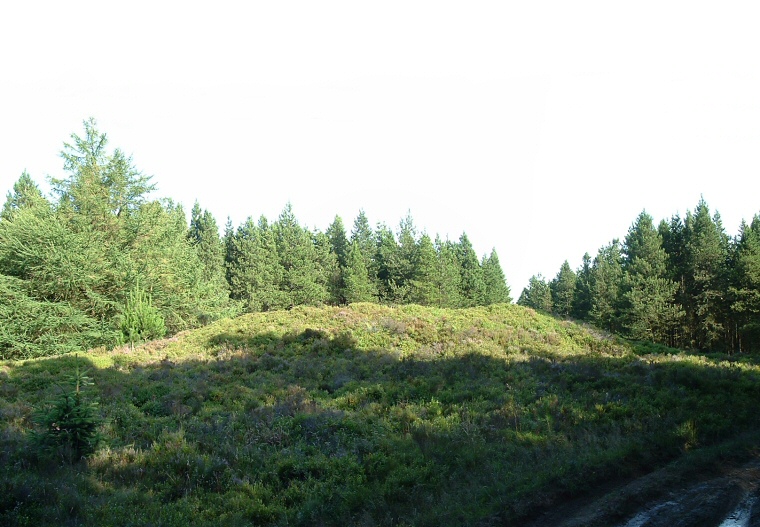 High Woof Howe is a large
round barrow
that stands in what is now the north-western edge of Langdale Forest. It is part of a chain of barrows that run in a roughly northwest-southeast direction from Black Brow close to the
High Bride Stones
down to near the head of the valley of Stockland Beck a couple of miles southeast of here.
This chain which has been suggested formed a territorial boundary across the moors includes
Flat Howes
,
Pen Howes
,
Breckon Howe
,
Sil Howe
,
Flass Brow
,
Robbed Howe
,
Foster Howes
,
Ann Howe
,
Louven Howe
,
Lilla Howe
, High Woof Howe and
Low Woof Howe
.
The barrow itself was probably only about 24 metres in diameter originally but is now an oval shape that measures more than 30 metres at it longest part due to various diggings in the past including soil thrown out from the partial excavation of the top of the barrow and the building of a shooting box into the side. It still stands to a respectable 2 metres high although excavations have left a large crater in the summit. This crater now contains a boundary stone that bears part of the inscription '
By Order of the Commissioner of Wykeham Inclosure 1786
'.
Date:
Bronze Age
Back to Map | Home | Full Glossary | Links | Email: chriscollyer@stone-circles.org.uk