Brow Moor Carved Rocks - Area 1 (Page 1)
Bronze Age Carved Rocks
Brow Moor, North Yorkshire General OS Map Ref NZ957018
OS Maps - Landranger 94 (Whitby & Esk Dale), Explorer OL27 (North York Moors - Eastern Area)
Stone numbers and coordinates taken from 'Prehistoric Rock Art in the North York Moors' Chappell & Brown

---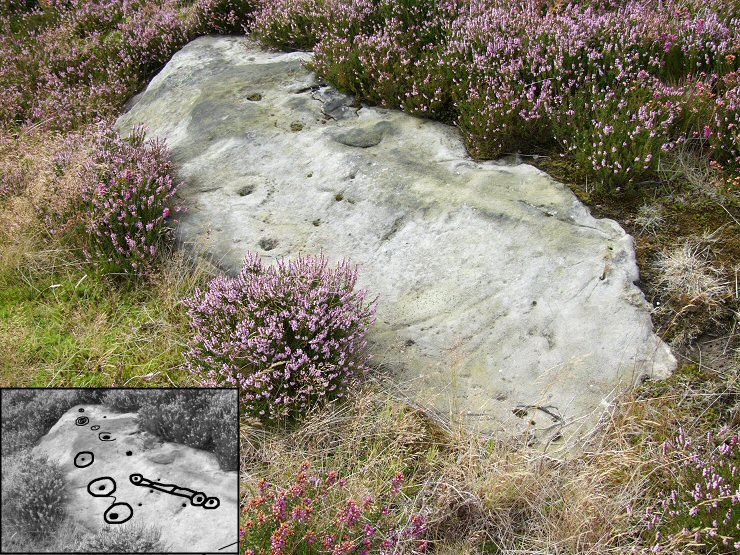 Stone 1a at NZ95770179. This long flattish outcrop has many different motifs on its surface some of which are badly worn and others that appear clear and fresh. At the far end of the outcrop there is a cup with three rings with a cup and single ring close by as well as a pair of cups linked by a groove giving a 'figure of eight' design that I found difficult to see and has not been marked on the inset diagram. Two interesting motifs are the three small cup and ring carvings linked by a pair of long grooves just below a slight ridge and the pair of larger cup and rings joined by a distinct line of peck marks to form a 'spectacle' design between the two clumps of heather in the picture above and shown in detail below.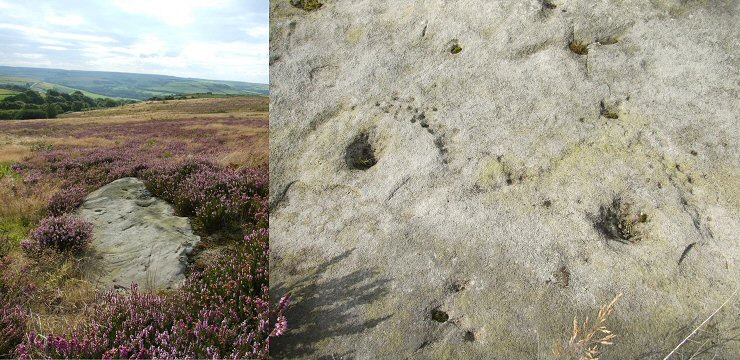 Stone 1a in context and in detail. The image on the left shows the view west over the outcrop towards Howdale. The image on the right shows a close-up of the 'spectacle' design on the lower surface of the rock. The pair of rings themselves are quite worn but clear pick marks can be seen within the cups as well as along the top of the rings with further pick marks linking the two rings together.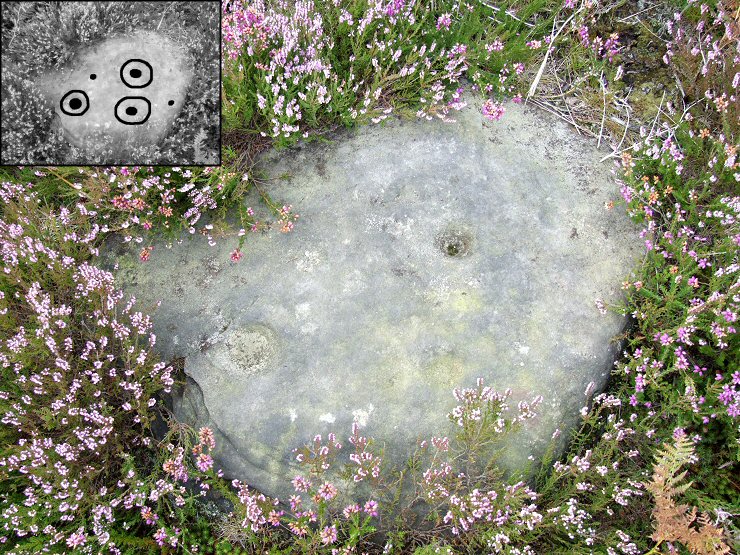 Stone 1b at NZ95740181. This boulder is quite worn and appears to be starting to disappear into the heather. Three cups have a single ring round each while elsewhere are a couple of other single cups.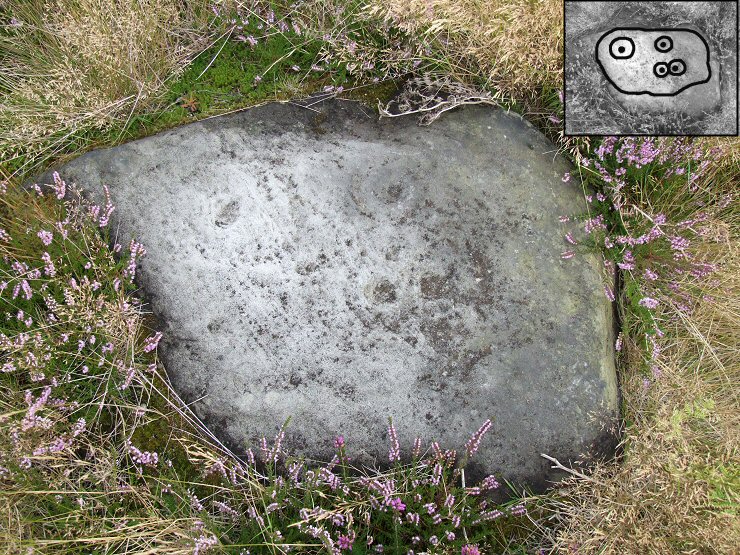 Stone 1c at NZ95720182. Another worn boulder with an interesting and pleasing design. This time there are four cups each surrounded by single rings but all four are enclosed by a single groove than travels around the rock face. In places the groove follows the outline of the rock and at others it cuts across its face - perhaps the lower parts were covered in earth when it was carved and the carver simply followed the visible outline of the rock?

Back to Map
|
Home
|
Full Glossary
|
Links
|
Email: chriscollyer@stone-circles.org.uk