Howdale Moor Carved Rocks - Area 9
Bronze Age Carved Rocks
Howdale Moor, part of Fylingdales Moor, North Yorkshire General OS Map Ref NZ955010
OS Maps - Landranger 94 (Whitby & Esk Dale), Explorer OL27 (North York Moors - Eastern Area)
Stone numbers and coordinates taken from 'Prehistoric Rock Art in the North York Moors' Chappell & Brown

---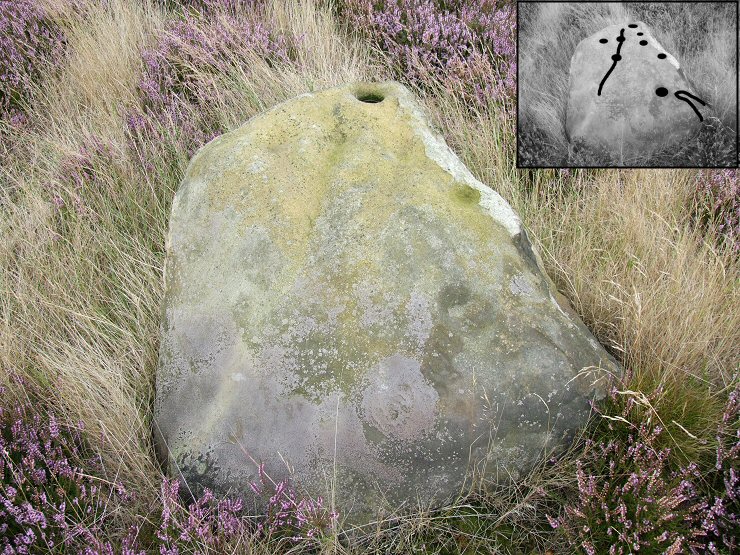 Stone 9a at NZ95440107. This boulder has a very clear cup at its apex that naturally fills with rain water as can be seen above. It could be that several thousand winters when this water has frozen and expanded have caused the cup to be naturally deepened whereas the other cups and grooves on the sloping faces of the boulder have been worn away by running water and the erosive action of wind. Alternatively this depression may be entirely natural and may have the inspiration for the use of this particular rock for carving.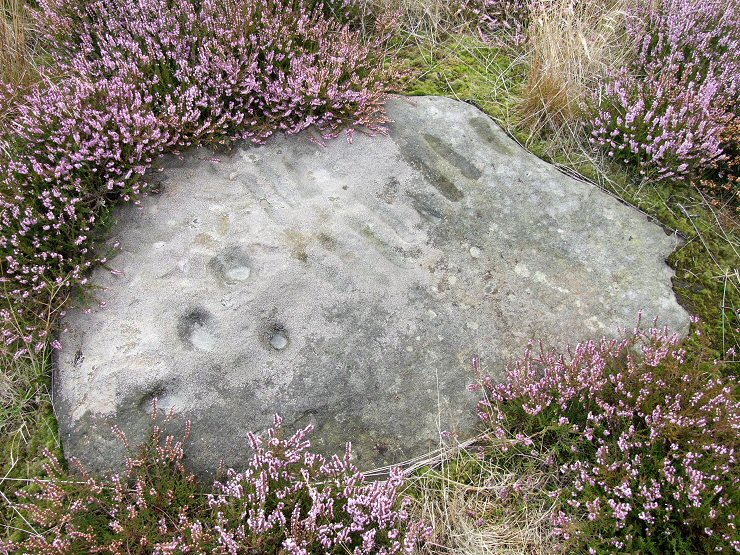 Stone 9b at NZ95520106. There are four clear cups on the lower left of the photograph but the rest of the carvings on this slab are more difficult to make out. Chappell & Brown record a series of faint parallel grooves separated by a slight ridge along the rock surface but these are not easy to find - I've tried to show my impression of these grooves by marking them with water above.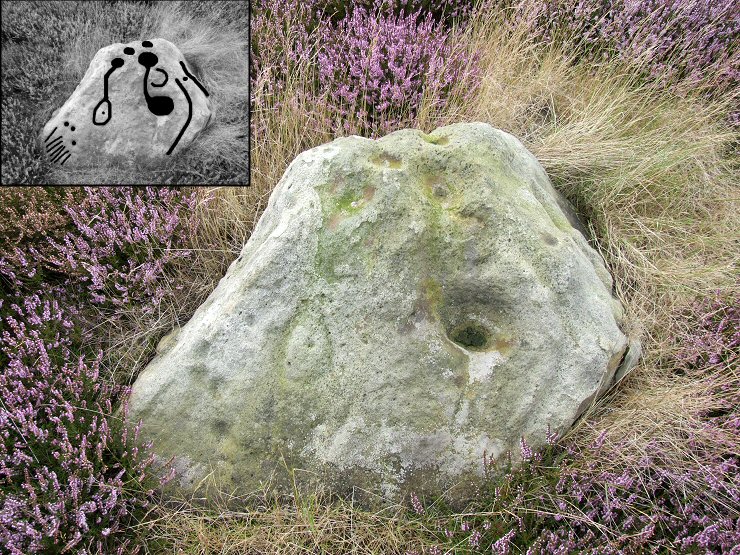 Stone 9c at NZ95470104. This domed boulder has a real mix of designs, the most obvious being the basin-like feature half way down the sloping front face. This is linked to a smaller basin or wide cup above by a short groove, a design that is almost mirrored on the left where a wide cup has a gutter leading down to an oval groove enclosing a cup. Was this oval the outline for another basin that was never completed? Elsewhere there are several other cups and deep grooves while the lower left of the rock has a series of faint parallel marks or 'comb' motif.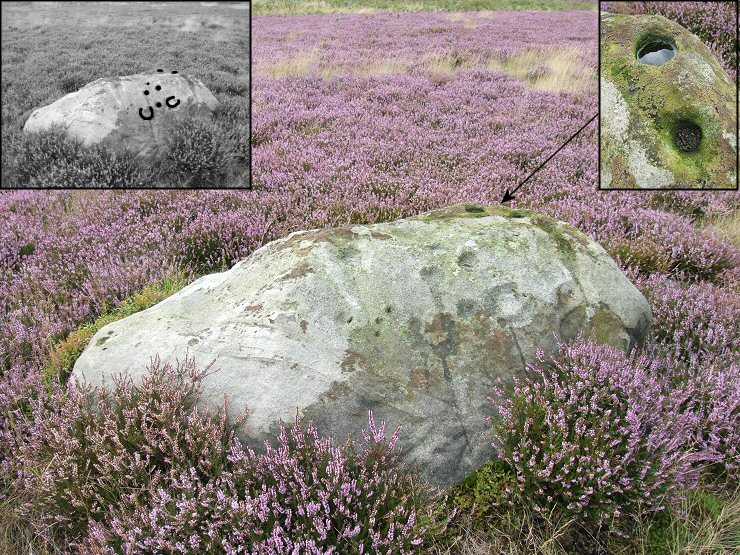 Stone 9d at NZ95520097. This large boulder carries only a few marks with a pair of deep cups on the top being the most noticeable features. Like stone 9a at the top of this page it could be that these cups have deepened over the years due to the action of rain water repeatedly freezing in them over the course of 4000 years or so. Two designs on the face of this rock could be rare horseshoe motifs, i.e. incomplete rings but the worn nature of the rock surface make it difficult to be certain.

Back to Map
|
Home
|
Full Glossary
|
Links
|
Email: chriscollyer@stone-circles.org.uk