Brow Moor Carved Rocks - Area 3 (Page 1)
Bronze Age Carved Rocks
Brow Moor, North Yorkshire General OS Map Ref NZ959015
OS Maps - Landranger 94 (Whitby & Esk Dale), Explorer OL27 (North York Moors - Eastern Area)
Stone numbers and coordinates taken from 'Prehistoric Rock Art in the North York Moors' Chappell & Brown

---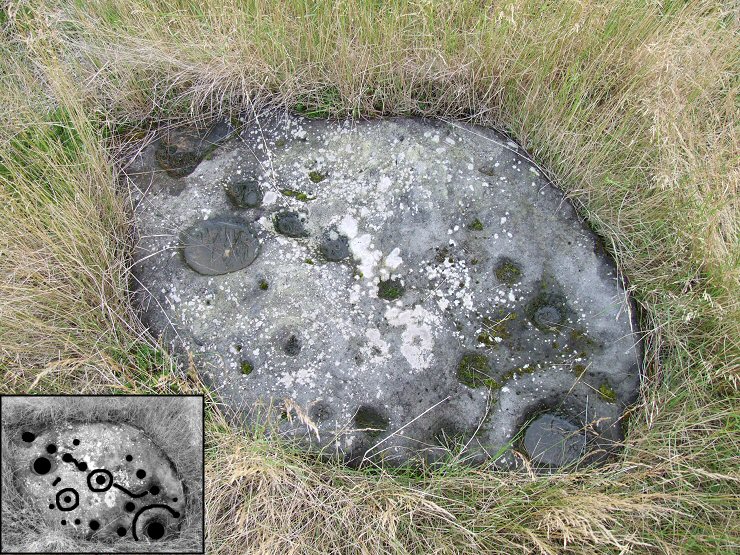 Stone 3b at NZ95860153. This boldly decorated oval slab seems almost deliberately designed to catch and retain water due to the large deep cups on its flat surface. The cup to the bottom right has a distinct groove round part of it but a smaller pair of cups with complete rings towards the middle of the stone are much less visible. Is this evidence that they were carved at different times or for different purposes? One of these cup and ring motifs can be interpreted as forming part a line of five cups that run from the centre to the upper left of the stone, some possibly connected by grooves.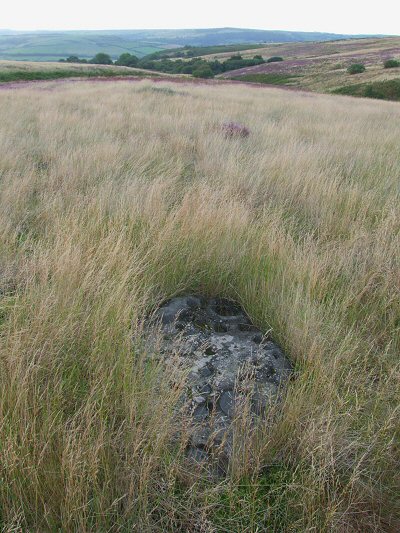 Stone 3b in context. Looking west over the stone towards How Dale,
the valley to the right marks the course of a stream feeding into Stoupe Beck.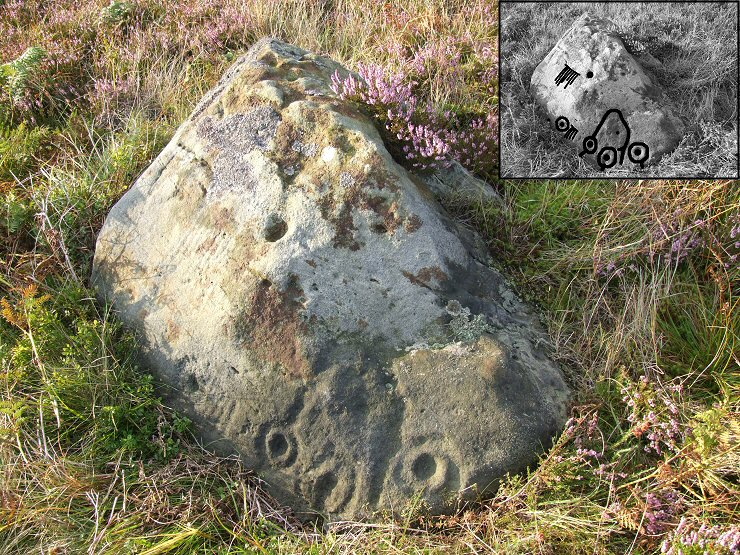 Stone 3h at NZ95930149. This distinctive domed boulder has some unusual and intriguing carvings. The most obvious are the three deep cup and ring motifs just above ground level, all three have short grooves leading down to the edge of the rock and there is also a groove that emerges from the top of one cup and ring, travels upwards, then curves round and back down again to pass between the other two. Another cup and ring can be seen just above the grass about halfway along the left face in the picture above and just to the right of this are a series of short vertical scratches or incisions forming a 'comb' motif. A further larger comb motif can be made out just below and behind the large cup visible to the left of centre (see also inset diagram).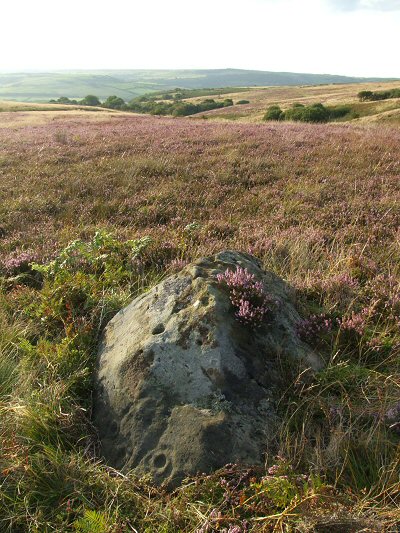 Stone 3h in context. The boulder stands a short distance from stone 3b
and shares a similar outlook towards the west and How Dale.

Back to Map
|
Home
|
Full Glossary
|
Links
|
Email: chriscollyer@stone-circles.org.uk